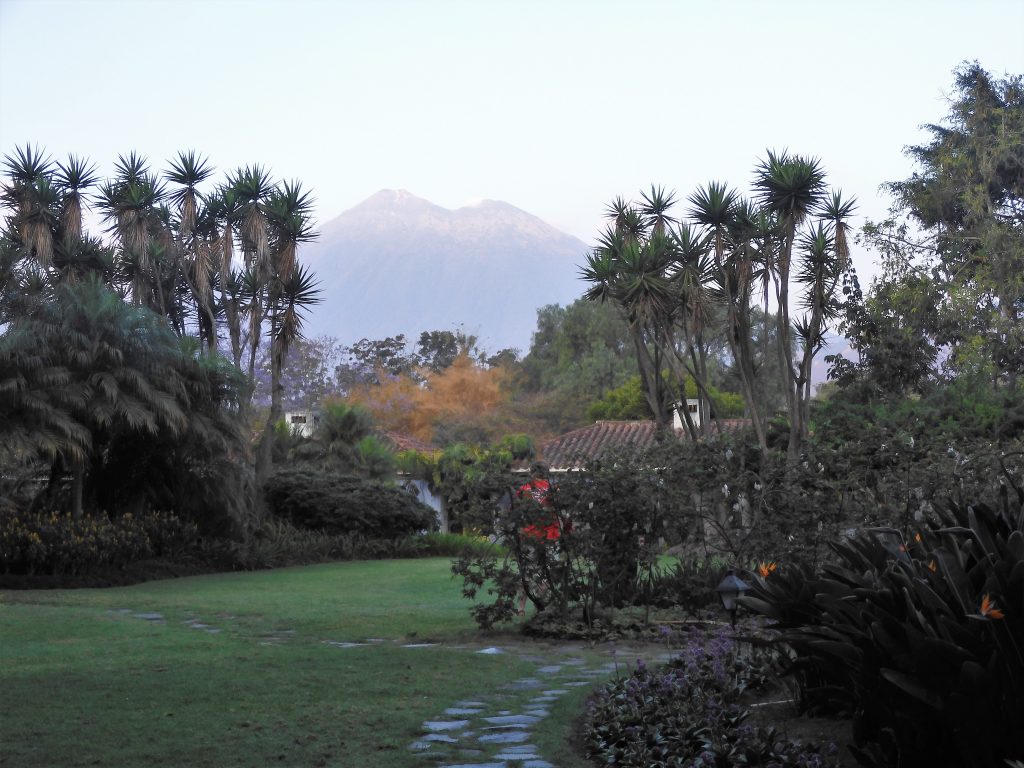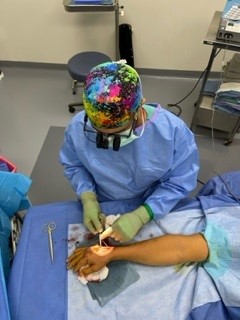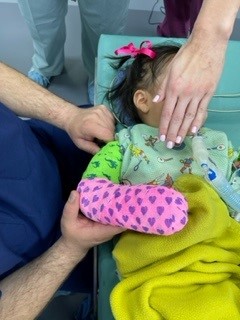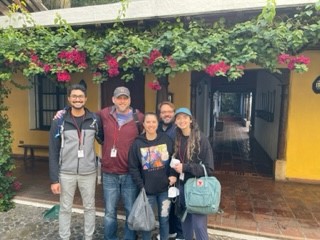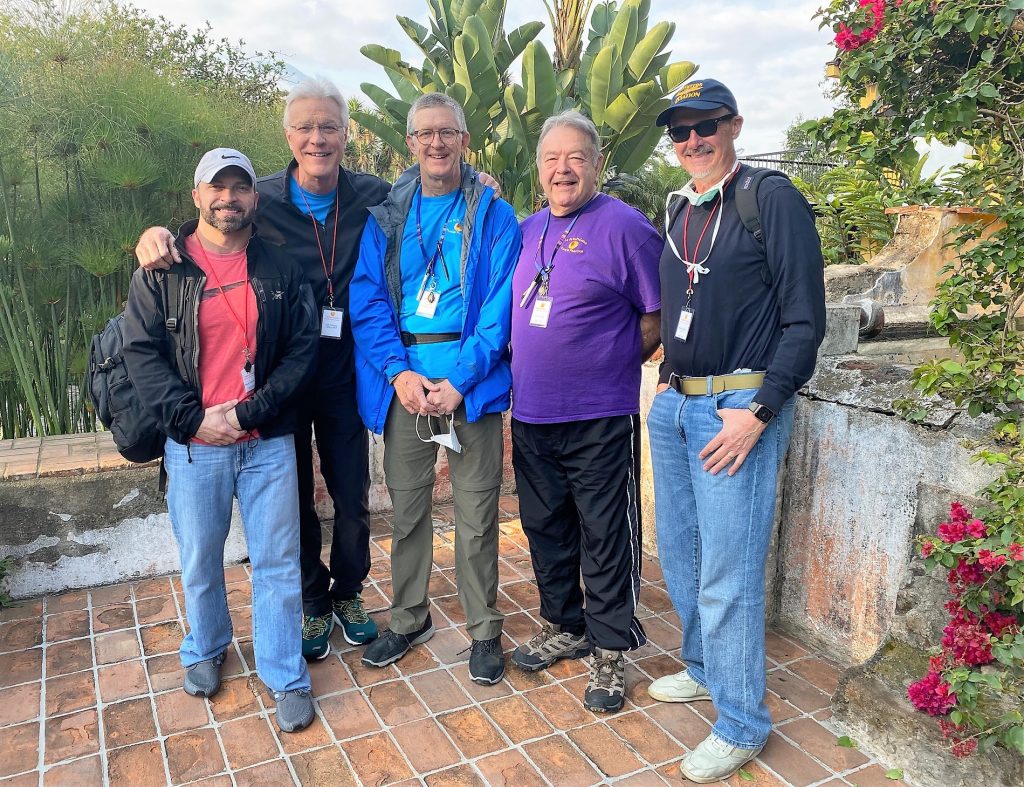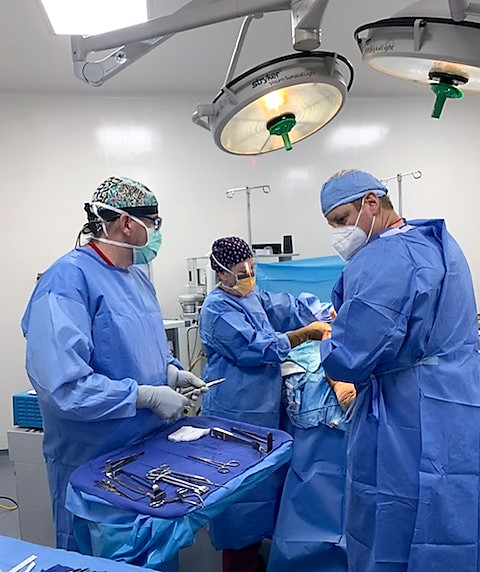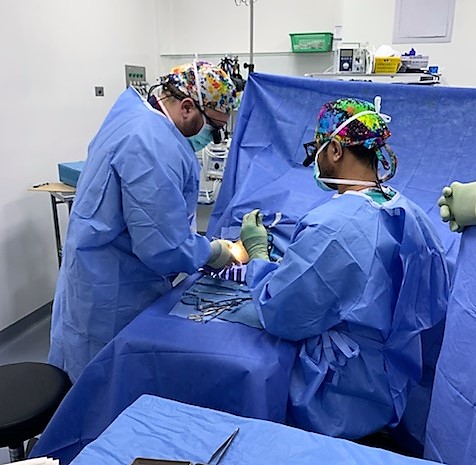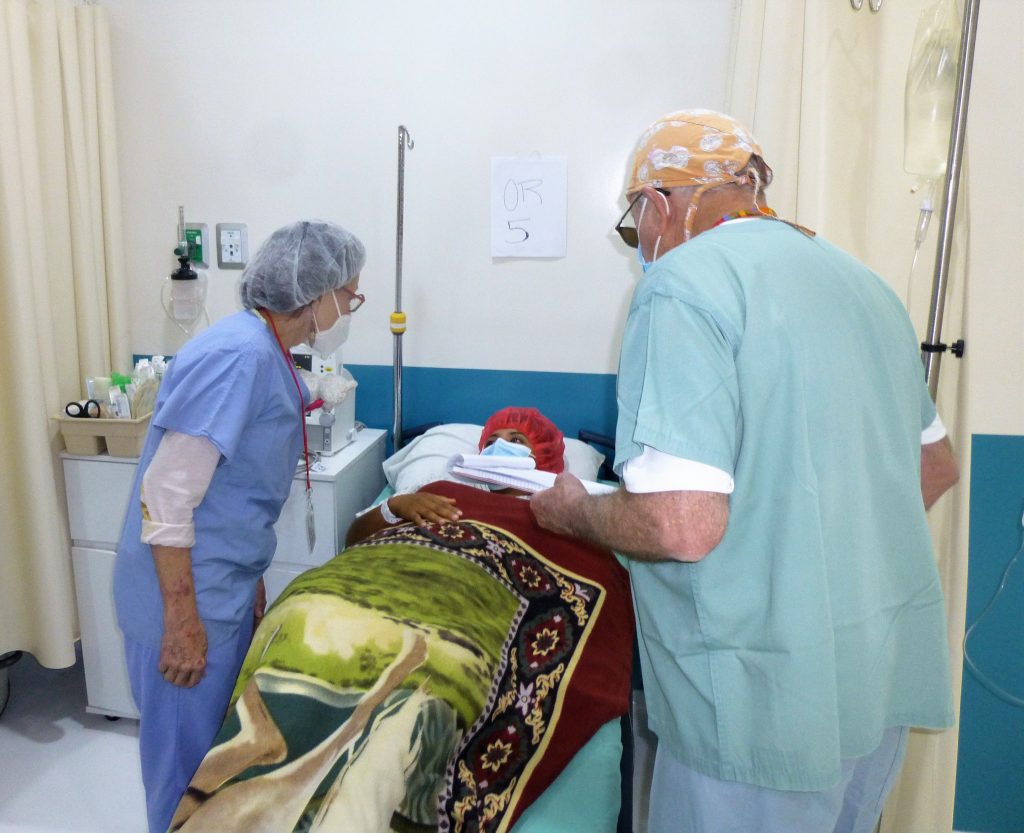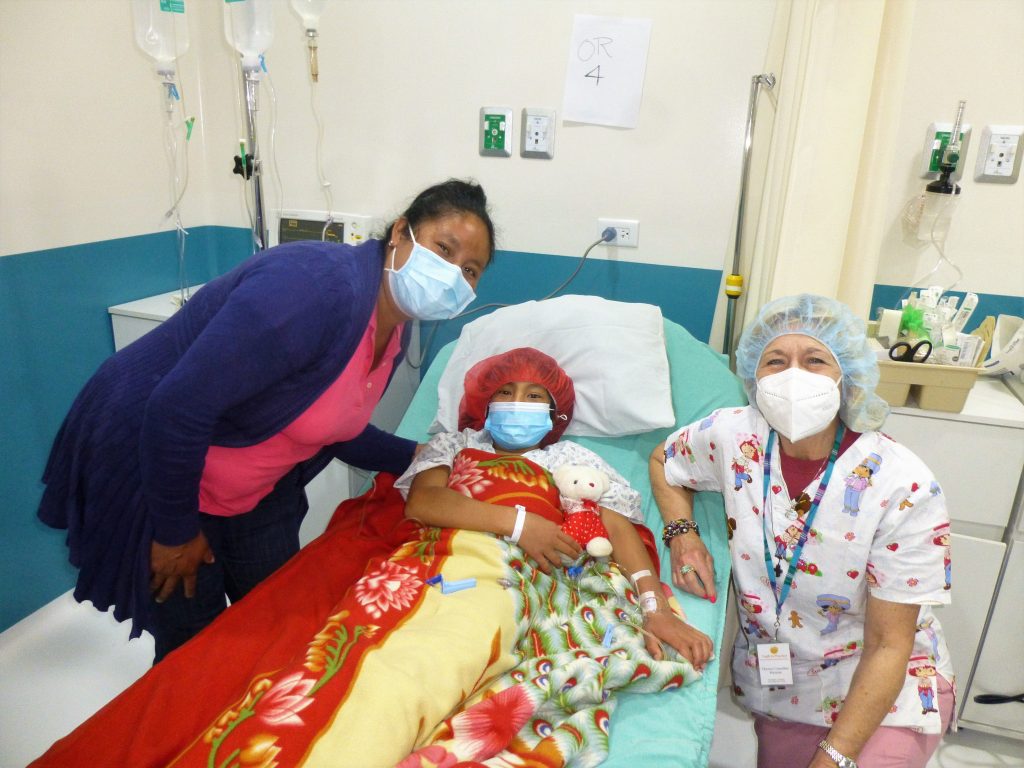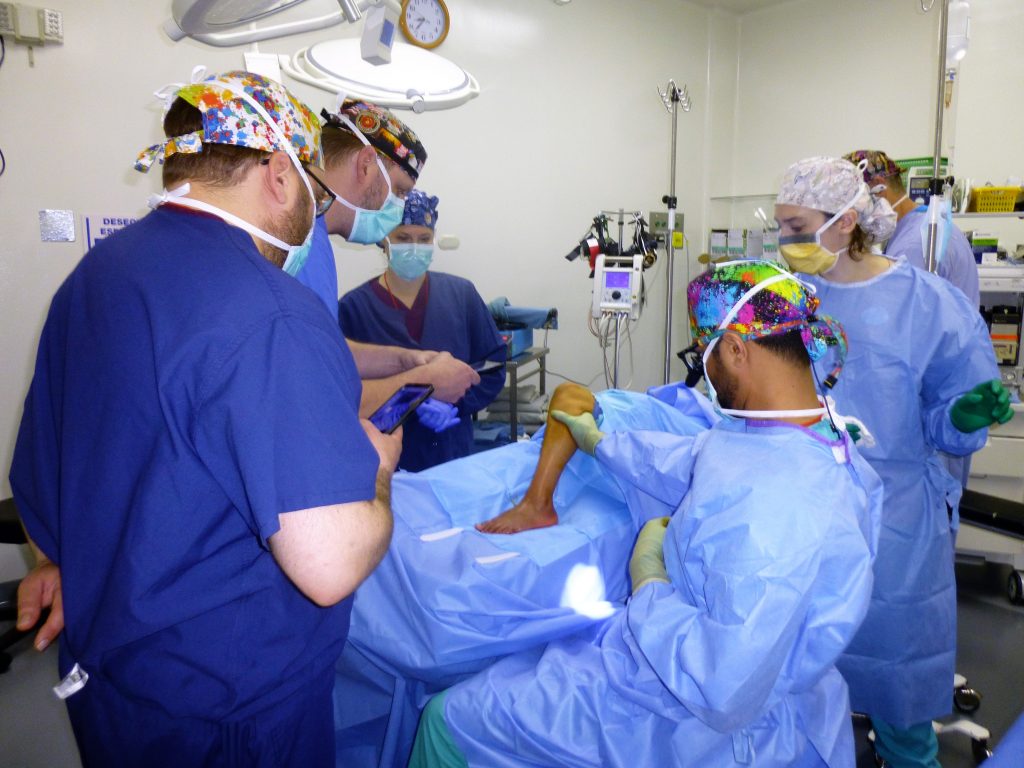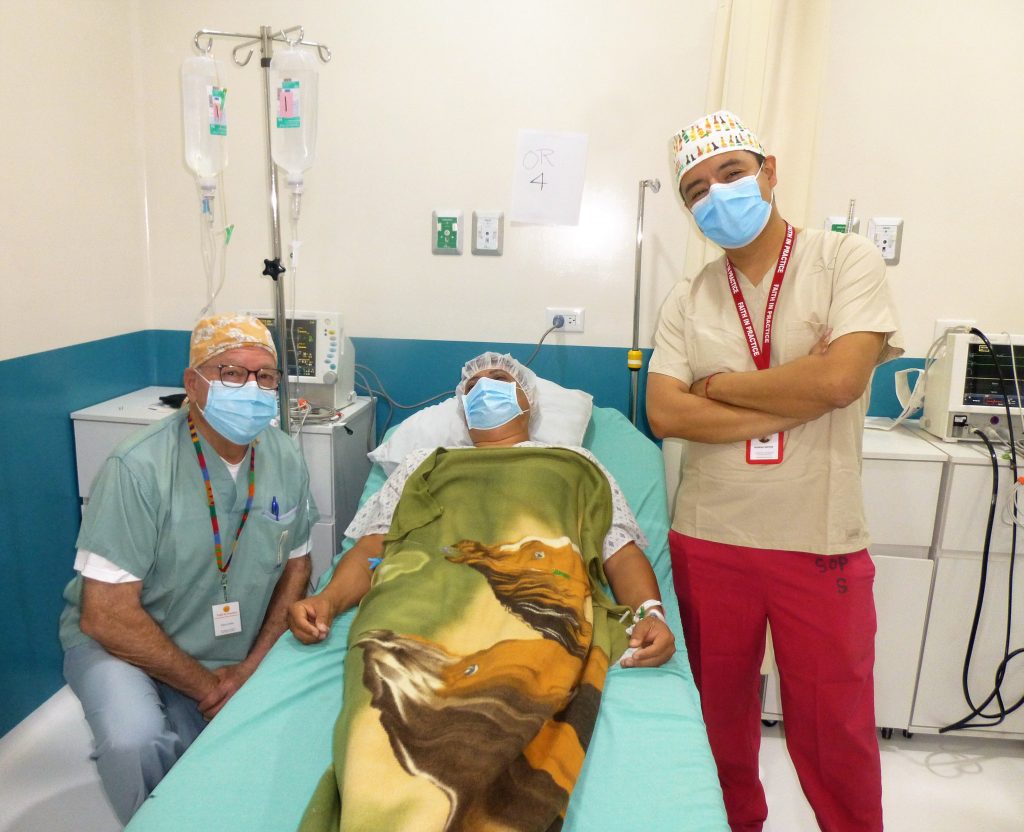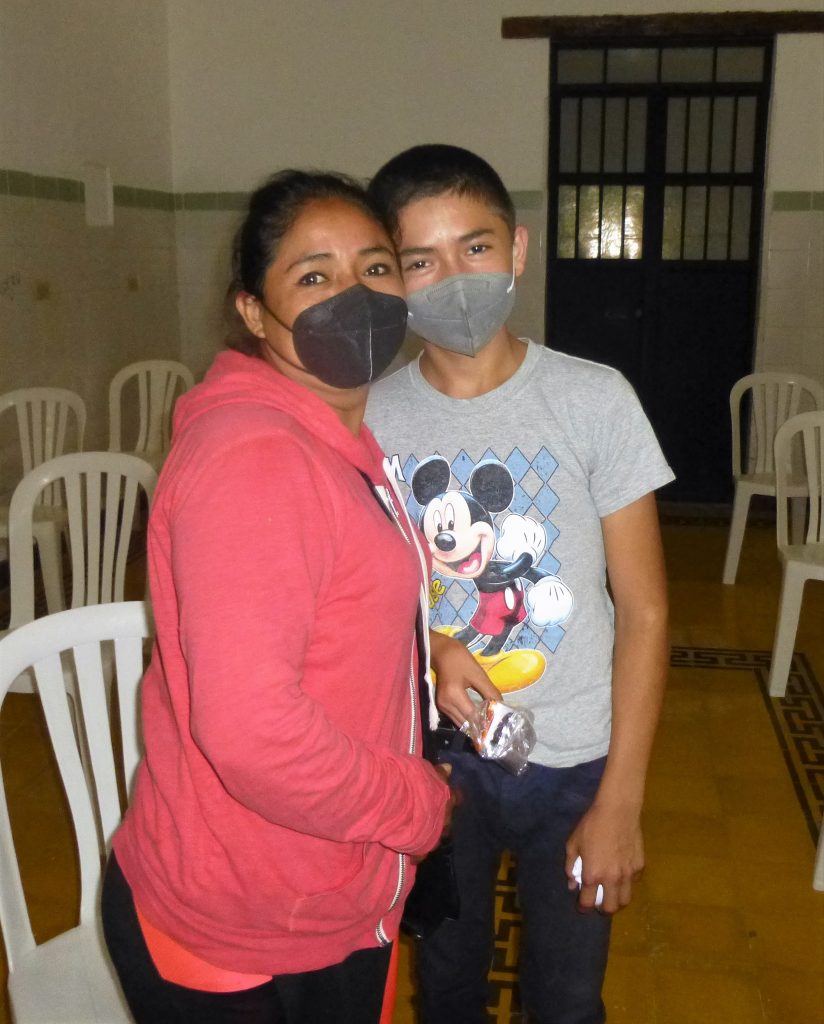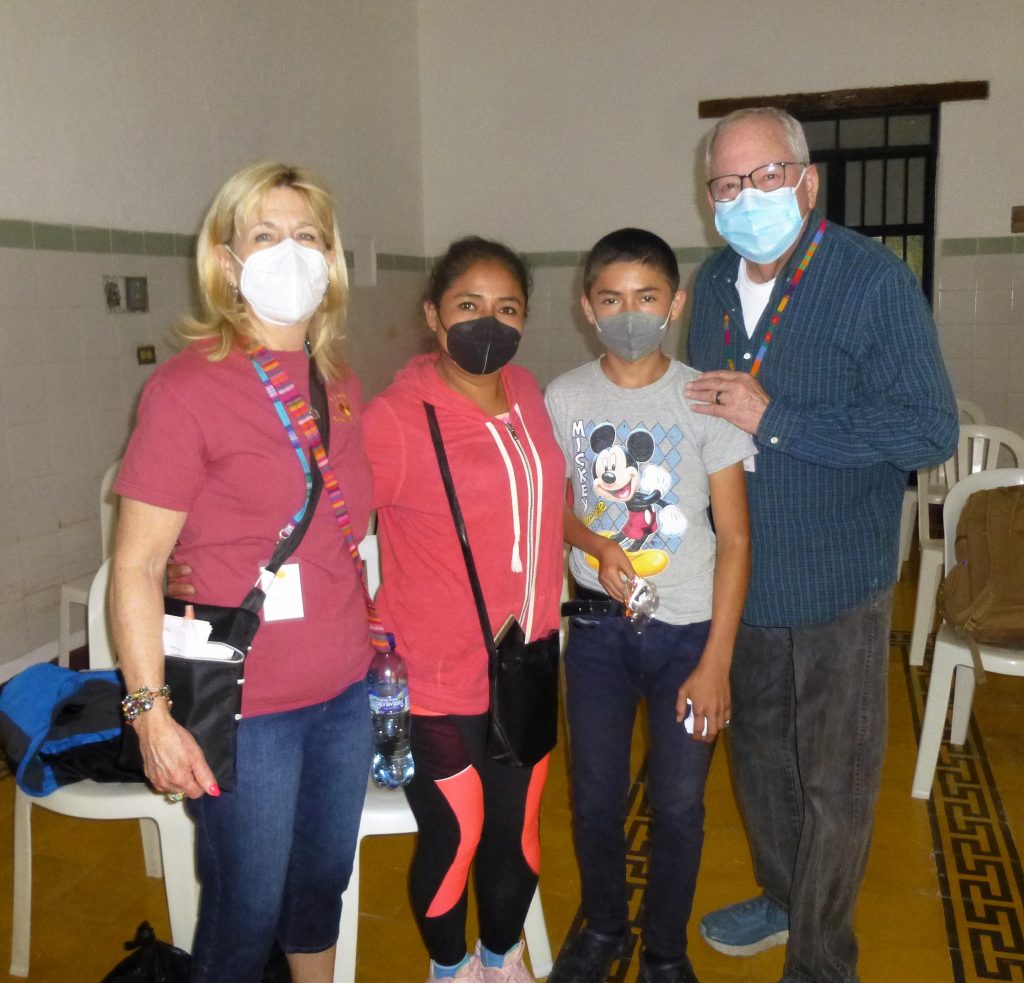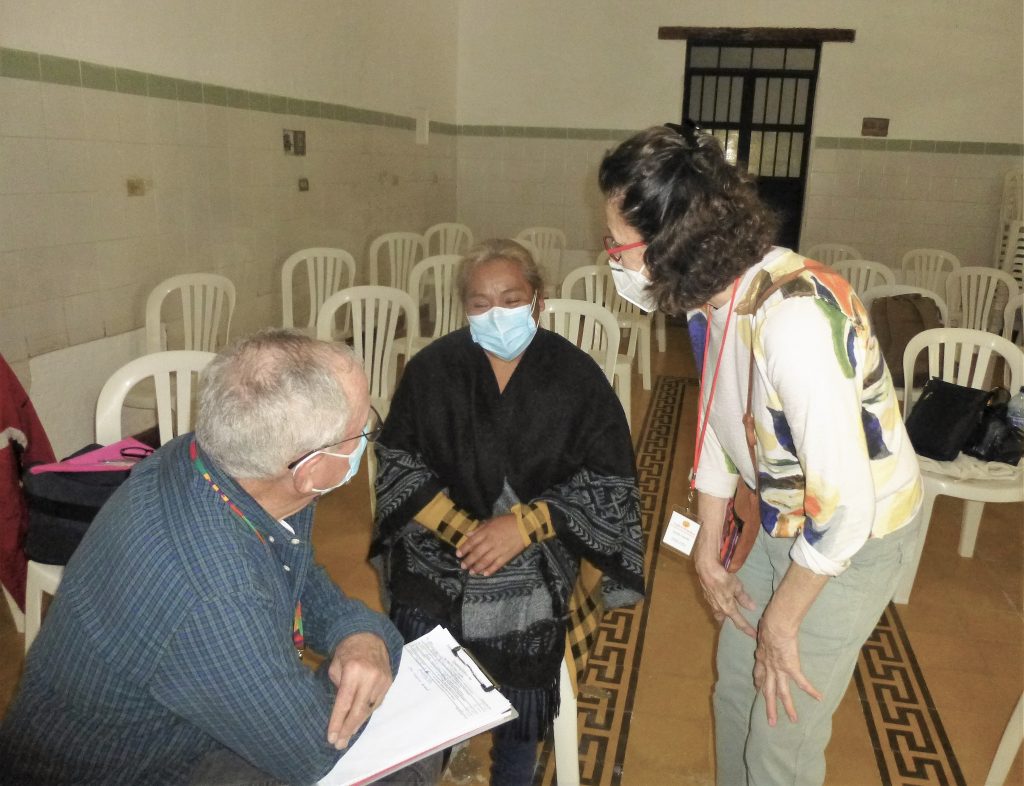 We begin each morning with breakfast and devotions outdoors, listening to a chorus of birds, admiring the local flora, and hoping for a clear view of the nearby volcanoes. Pastor Dave shared two overlapping stories of healing from Mark 5. On Jesus' way to heal the daughter of a Synagogue leader Jairus, a woman who had been bleeding for 12 years was healed when she touched Jesus' garment. Our ultimate healing comes through faith in Jesus!
Pastor Dave and I, with Sandy interpreting, spoke with another Faith in Practice volunteer, Dominga Garcia. She has escorted 7 patients to Antigua from a village 13 hours' drive away. They use a van because the patients cannot ride a bus due to COVID restrictions. Her family is not very supportive of her ministry – they don't like her being away from home. However, it is so rewarding for her, and she said she laughs and cries with her patients. She loves to write stories and songs, and she performed one for us that was very beautiful.
Our first orthopedic surgery of the day was on 10-year-old Melany who had six toes on her left foot. Drs. Apel and Vohra were able to successfully remove the extra digit, and she was all smiling post-op.
We had a chance to visit with Ana, the mother of 13-year-old Randolfo. He is the middle son of five. Ana's husband left them, so she is raising the children alone. She used to support the family by doing maintenance at a school. During COVID, the school shut down and she lost her job. She has survived by making food and selling it. Her oldest son got a job as an auto mechanic to help out.
Ana told us the surgery Randolfo needed would cost Q30,000. She has put her faith in God and the hands of the surgeons. She knows through prayer that God is listening to our prayers. Drs. Apel and Vohra were able to release an elbow contracture and fuse his wrist so that he can now straighten his arm.
Omar, a 47-year-old accountant, had a dislocated wrist that was repaired by taking out bones and performing a carpal tunnel release.
Dr. Stehly's OR repaired the shoulder of Lilian, age 45, and performed a knee arthroscopy for Maria, age 23. While Pastor Dave prayed with Maria before her surgery, tears were rolling down her face. She understands that healing comes through faith in Jesus.
MEET THE TEAM (Cont.)
SURGEONS
Sahil Vohra, MD – Dr. Vohra, a fellow in hand and upper extremity surgery, is also from the Virginia Tech Carilion School of Medicine. This is his first medical mission experience. He shared that he enjoys seeing the patients starting with the interview process through their surgery and postop care. He is impressed with the gratefulness of the Guatemalan people and their great perspective. When he finishes his fellowship, he will return to Ventura, CA, as faculty with Community Memorial Hospital.
NURSES
Patricia Blankenship, RN – Serving in the role of RN circulator, Patricia joins our team for the first time. She is also from the Virginia Tech Carilion School of Medicine. She has found the experience of a medical mission trip to be amazing and very rewarding. She shared that it is nice to feel appreciated and not taken for granted and that we're helping people who truly desire the help.
Eric Davis, RN – Eric is another health care provided from Roanoke and is assisting the orthopedists as an RN circulator/scrub tech. He served our country with the Marine Corps from 2001-2005 in England, Spain, Liberia, and Iraq. He then went on to nursing school at Valdosta State in GA. At Carilion, Eric works as a preceptor in general surgery and a clinical team leader.
Patricia Landrieu, RN – Patty is also joining us for her fourth year in Antigua. She is working in the role of circulating nurse with the orthopedic team. She works at the Baylor Scott & White Frisco Hospital.
Carrie Thompson, RN – Embarking on her second trip with our team, Carrie is assisting with orthopedic surgeries as a circulator. She works as an RN at Baylor Scott & White Frisco.