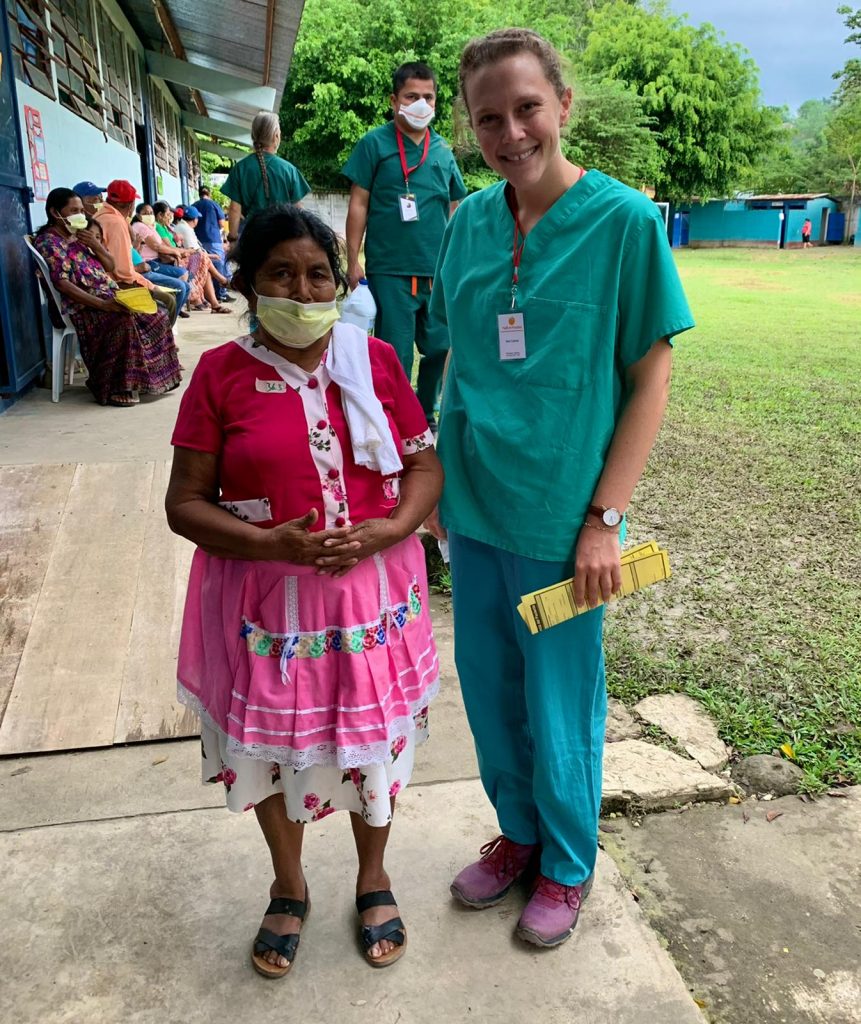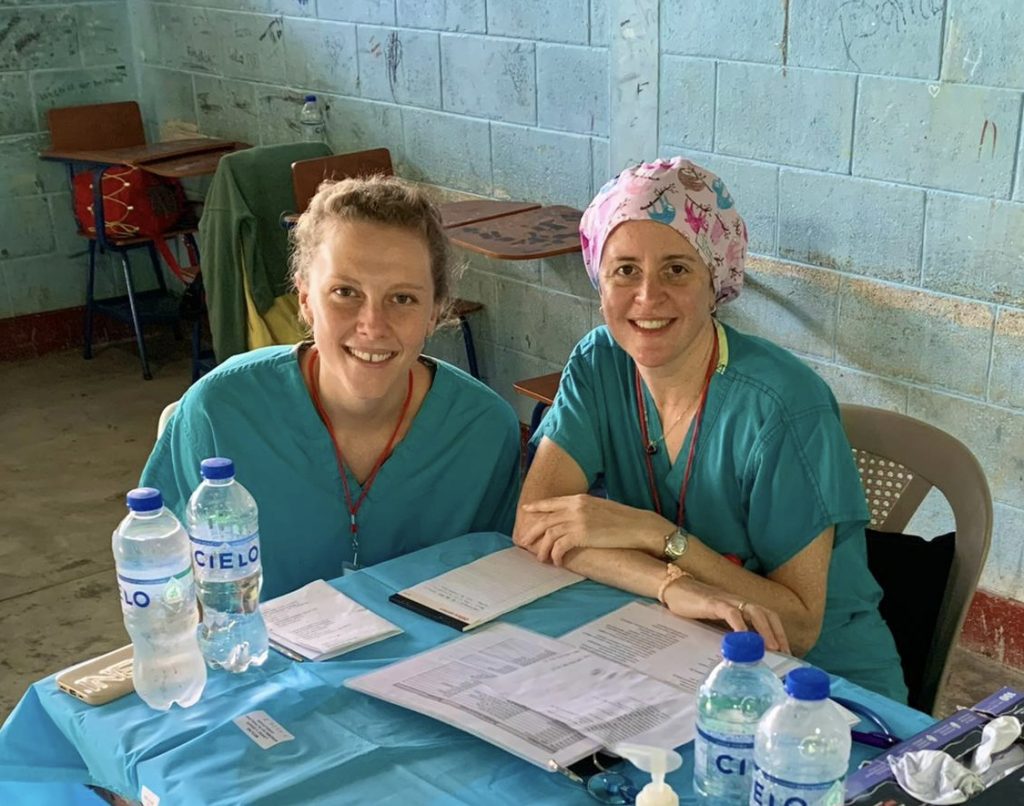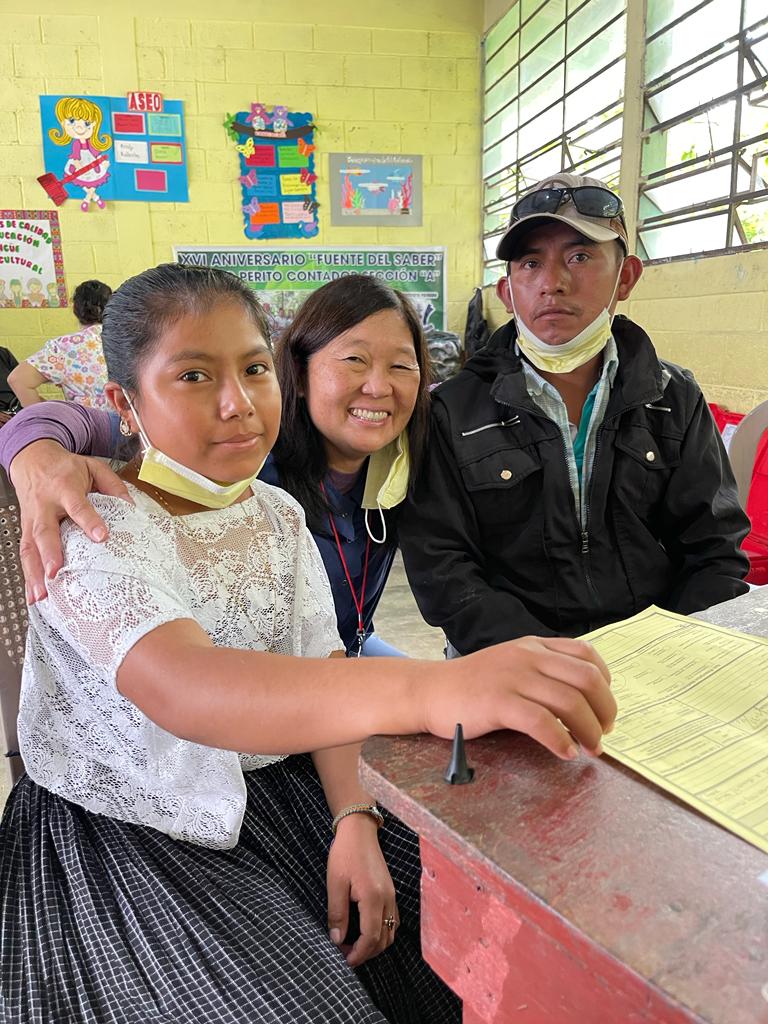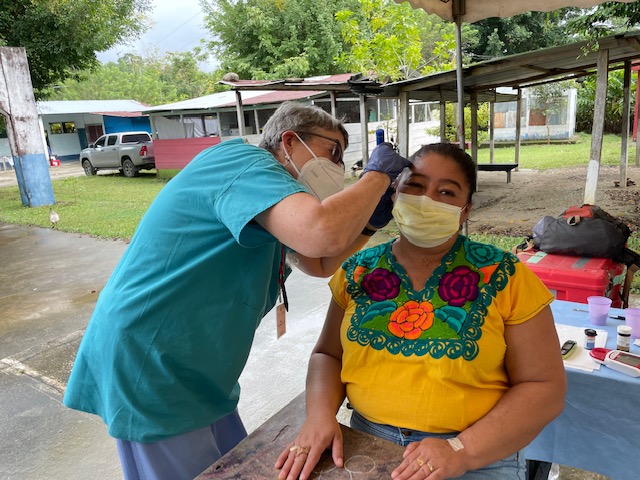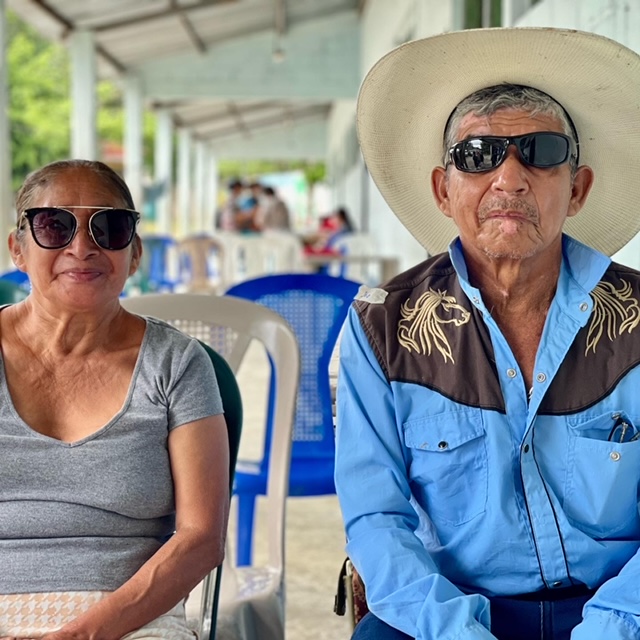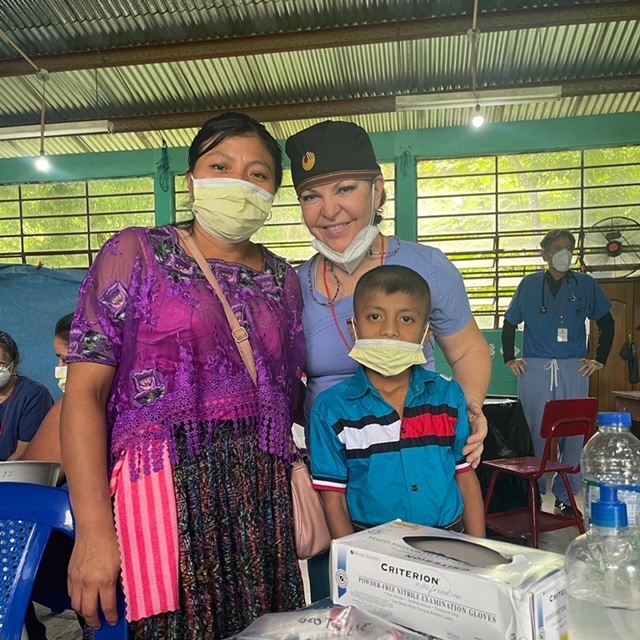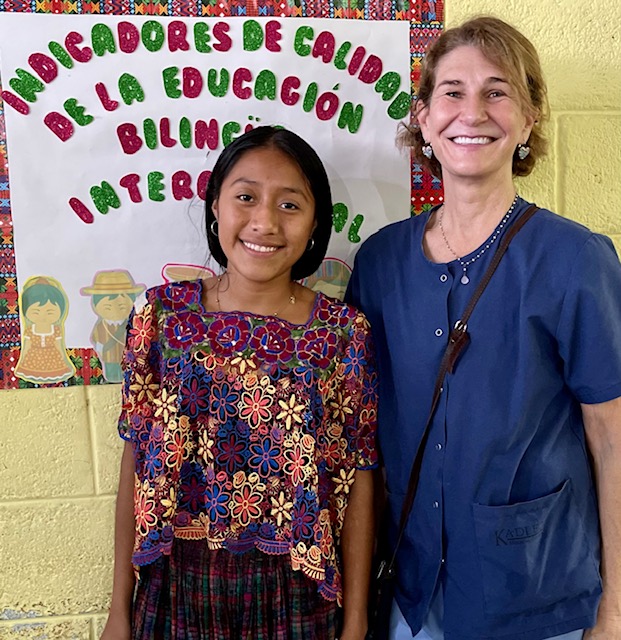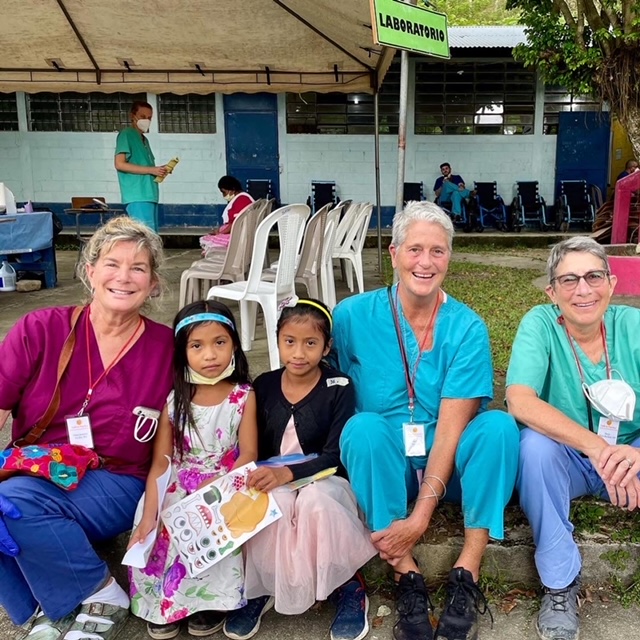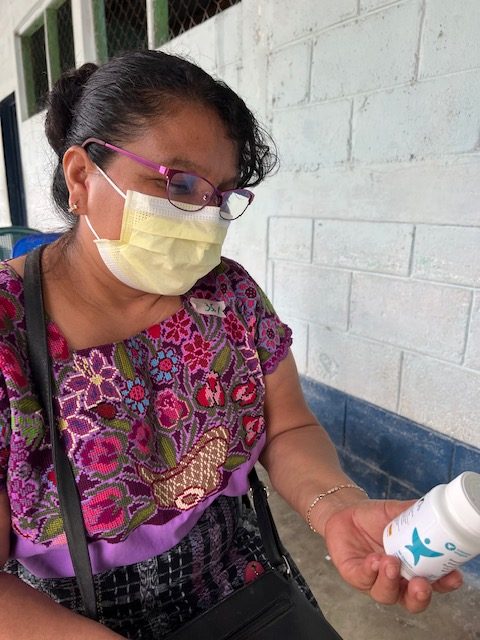 Today's blog is being handed over to three of our first-year volunteers on Team Thompson.
Dana Justesen Trexler – Nurse, Laboratory
Yesterday I had a beautiful encounter with the very first patient of the day. A women asked for a pregnancy test and was our first positive pregnancy test this week. The tears started flowing down her face and she was so happy. She and her husband, who are in their mid to late thirties, were thrilled with the result as this will be her first child. The couple was so touched and so hopeful for their future family.
This is my first visit to Guatemala and my heart has a huge smile on it. The Guatemalan people are beautiful and appreciative of our work here. Even some of the young children whose fingers we must poke for blood draws, ultimately leave happy with some cheerful stickers. And even though we all have masks on in the clinic you can see the smiles in our patient's eyes.
Ines Lizaur – Interpreter, General Medicine
An 85-year-old man walked into our clinic appearing very out of breath, dehydrated, and exhausted. We immediately brought him over to see Dr. Stephanie. He then told us that he had walked one hour to get to the clinic that morning. The man also told us about how his wife had passed away 10 days ago and since then he had been very disoriented. He was struggling and had recently recovered from tuberculosis. He expressed how grateful he was for the doctors here. We were able to provide him with plenty of water, vitamins, and medication for his respiratory symptoms. He continued to bless and thank us for our work. I was stricken by the love and support he was showing us volunteers when I felt like he was the one who truly needed our support at this time. So as the interpreter I did everything I could to show him love and graciousness that he was showing me. I will carry his story with me for a very long time and am grateful we could help him feel better and struggle a little less during this tough time in his life.
I was very excited to join Team Thompson on my first Faith in Practice trip. I expected to meet volunteers and patients that would change my perspective on the world and highlight how access to medical care is so important in rural communities lacking resources. This trip reignited my desire to work professionally in a sector that is directly helping people. I hope to use my engineering background to solve tough problems related to health. I know I will carry many stories of patients from this trip with me for the rest of my life and am really looking forward to hopefully joining future Faith in Practice trips!
Carol Ozawa – Doctor, Pediatrics
"Eye discharge," said the chief complaint on the triage note. "Oh good!" I thought, almost out loud. "This will be easy!" I looked up and saw before me a 16-year-old young man sitting quietly with his head hanging forward. I didn't see much eye discharge. He had Down's Syndrome.
"I'm his neighbor," notified the woman sitting next to me with a seven-year-old in her lap. "I brought him here because his mother doesn't take care of him."
She had travelled quite a distance with her other children to come to the FIP clinic. "He didn't look good," she said. "I had to have him seen." She smiled. "I have eight children," she said proudly, "and I'm one of twelve. Que bueno es tener familia!"
I listened to his heart. Wait, was it raining? I stopped and glanced outside. The weather was quiet. I listened again. Was that sound truly a heart murmur? Ugh, it was a rip-roaring holosystolic one…a significant cardiac defect.
I wrote the referral to Cardiology and a couple of others as well. I gave drops for the eyes. The woman thanked me and smiled, then shuffled out the door with her tow in hand. She seemed to radiate a halo of light as she went outside. Despite her own responsibilities to her large family, she had traveled miles with someone else's special needs kid to seek care for him. She exemplified a life of love.
This has been my first experience on a medical mission, and it has been profound. With this shared purpose of serving those in great need, the team formed fast, deep friendships with each other and the community workers. As two examples, my roommate was so lovely and spirited and made me laugh so hard while I felt an instant connection with my excellent translator who knew exactly what to say, as if she could read my mind. Each person had a purpose and delivered brilliantly. The humility of the people we had the honor of taking care of showered us with grace. There was beauty in every child's eyes, palpable hope in every family's heart, and joy for all in the entire delivery of care. This is the message of the mission: love for each other, and gratitude for all of it.
As we wrap up our four clinic days, we leave you with this Gaelic Blessing that was shared with the team during this morning's devotional:
Deep peace of the Running Wave to you
Deep peace of the Flowing Air to you
Deep peace of the Quiet Earth to you
Deep peace of the Shining Stars to you
Deep peace of the Gentle Night to you
Moon and Stars pour their healing light on you
Deep peace of Christ the Light of the World to you
To support this team and their commitment to our patient's visit: