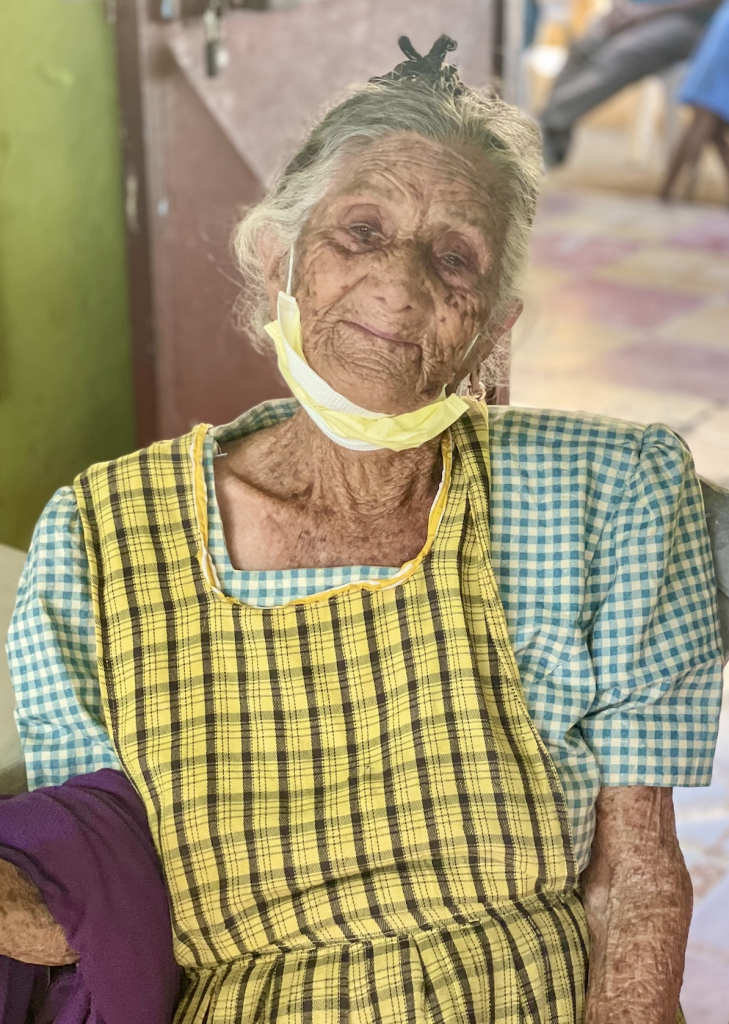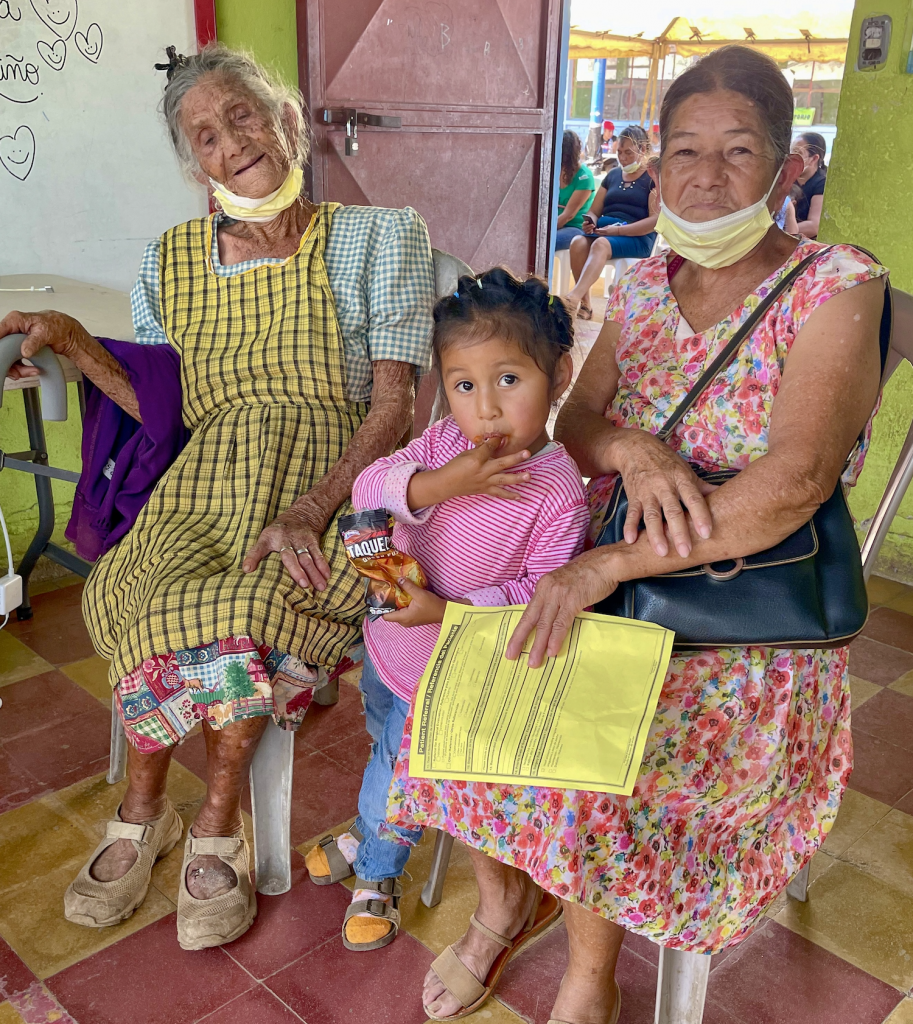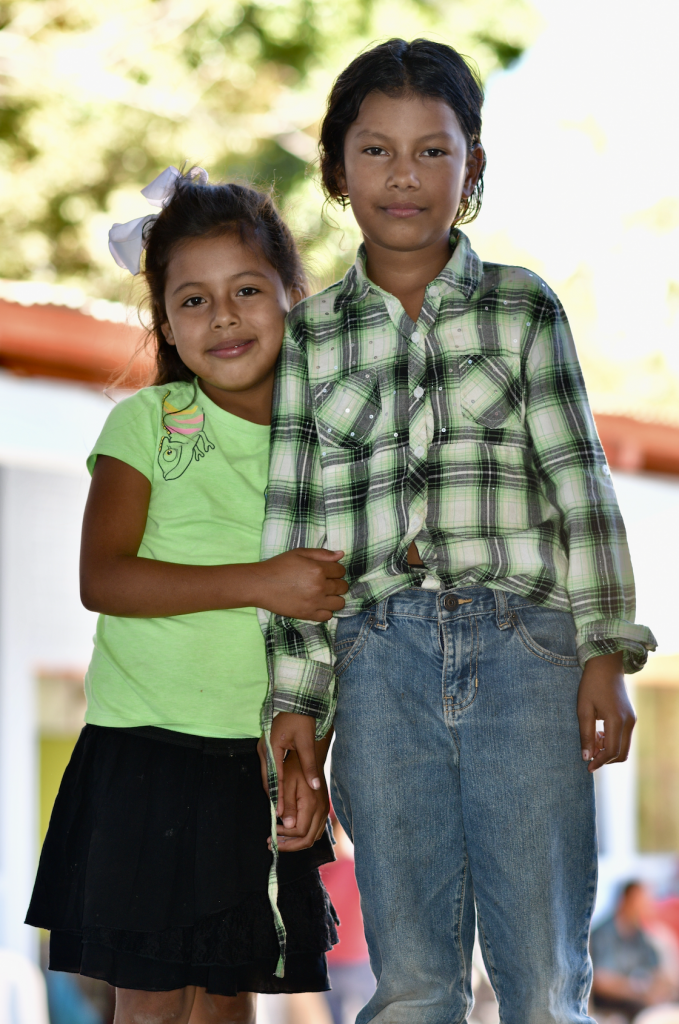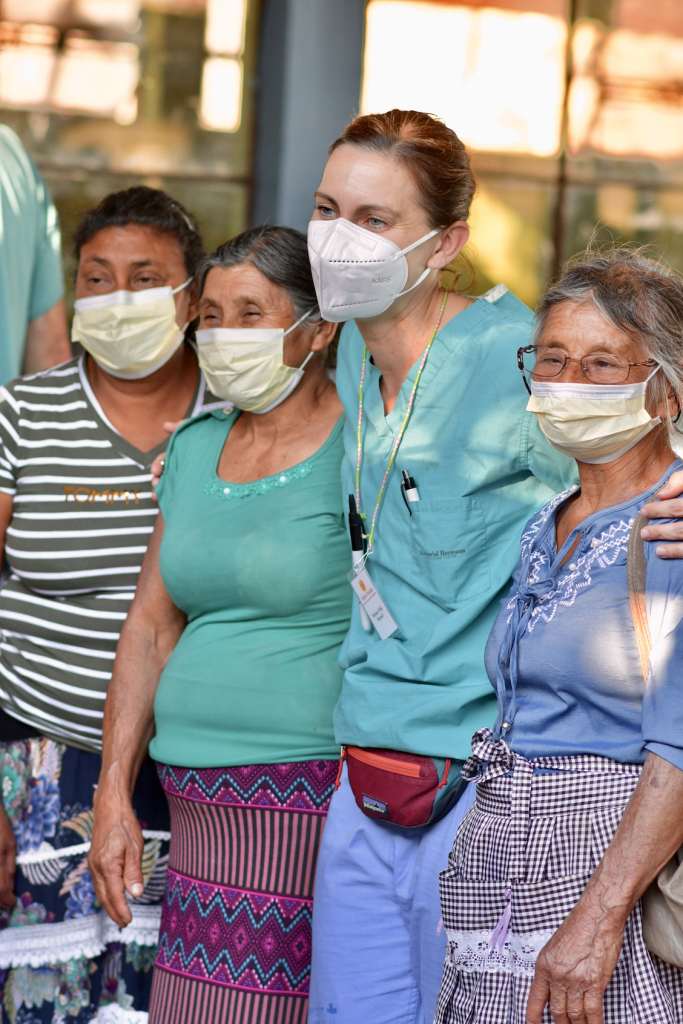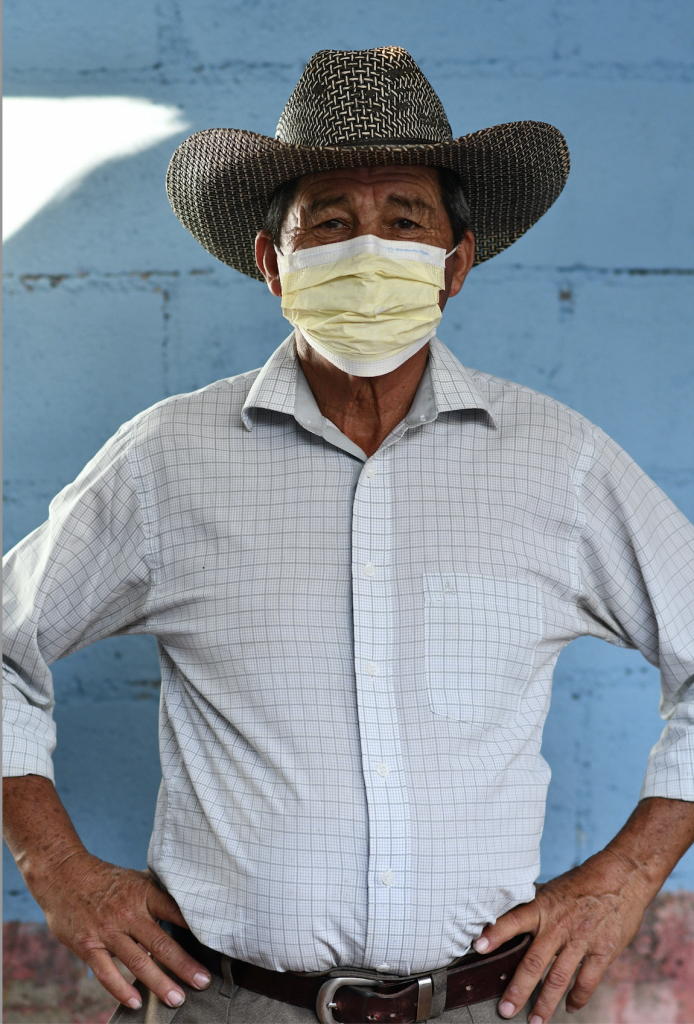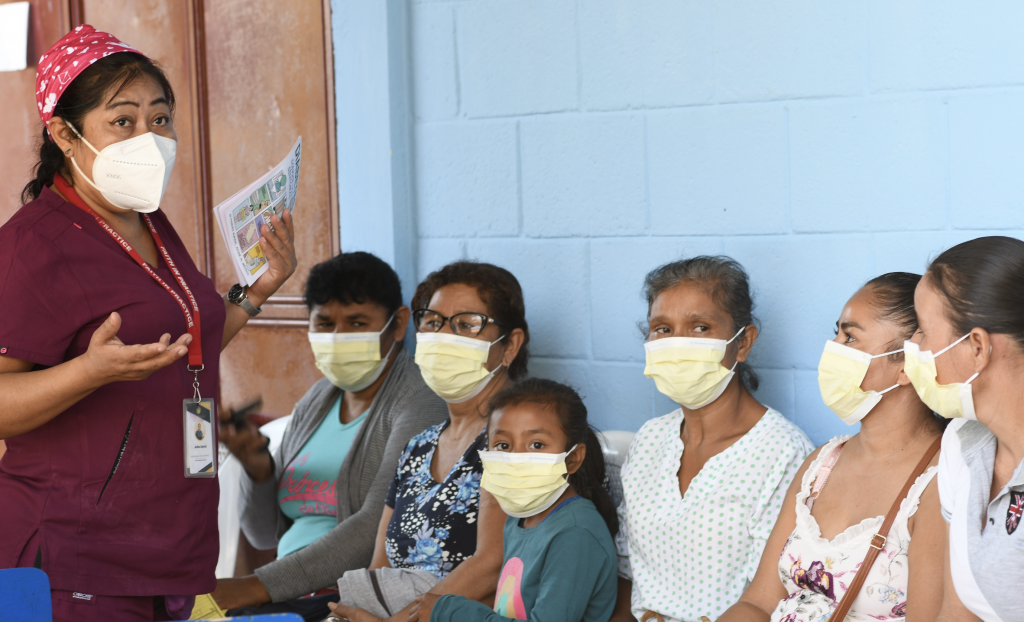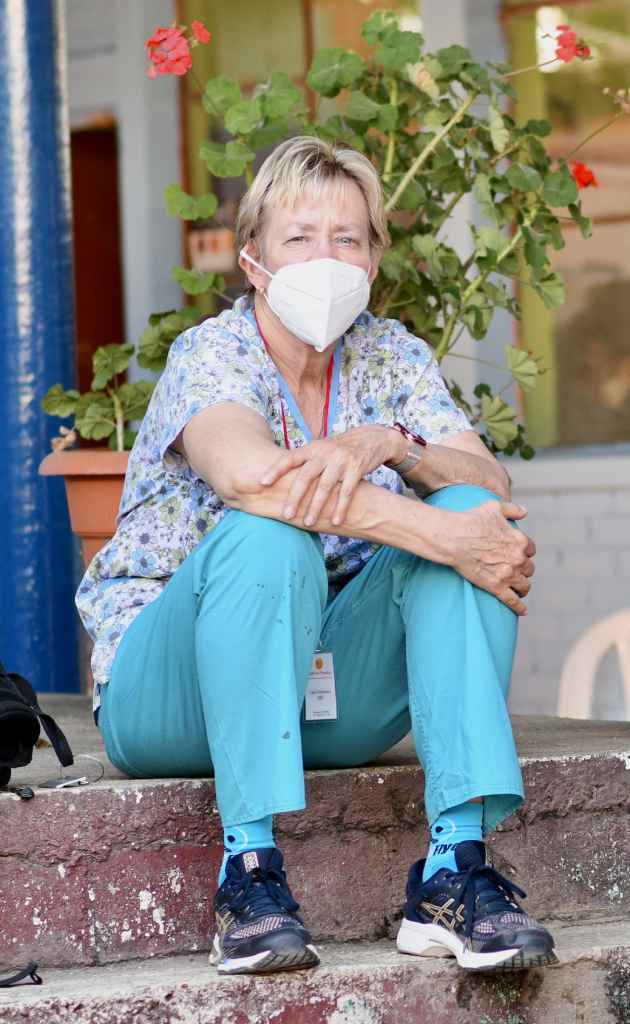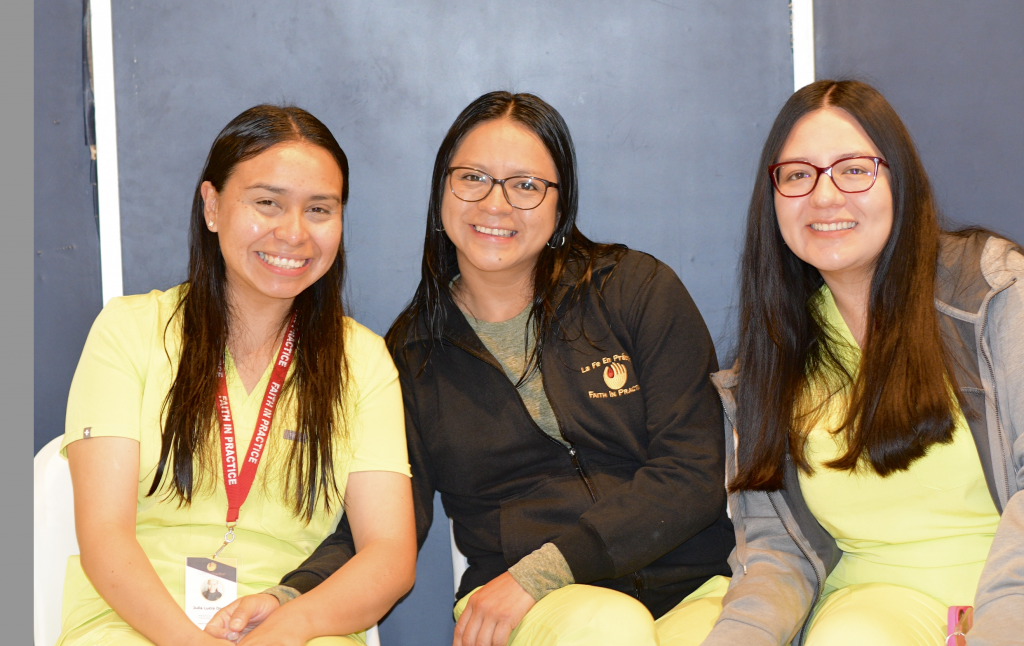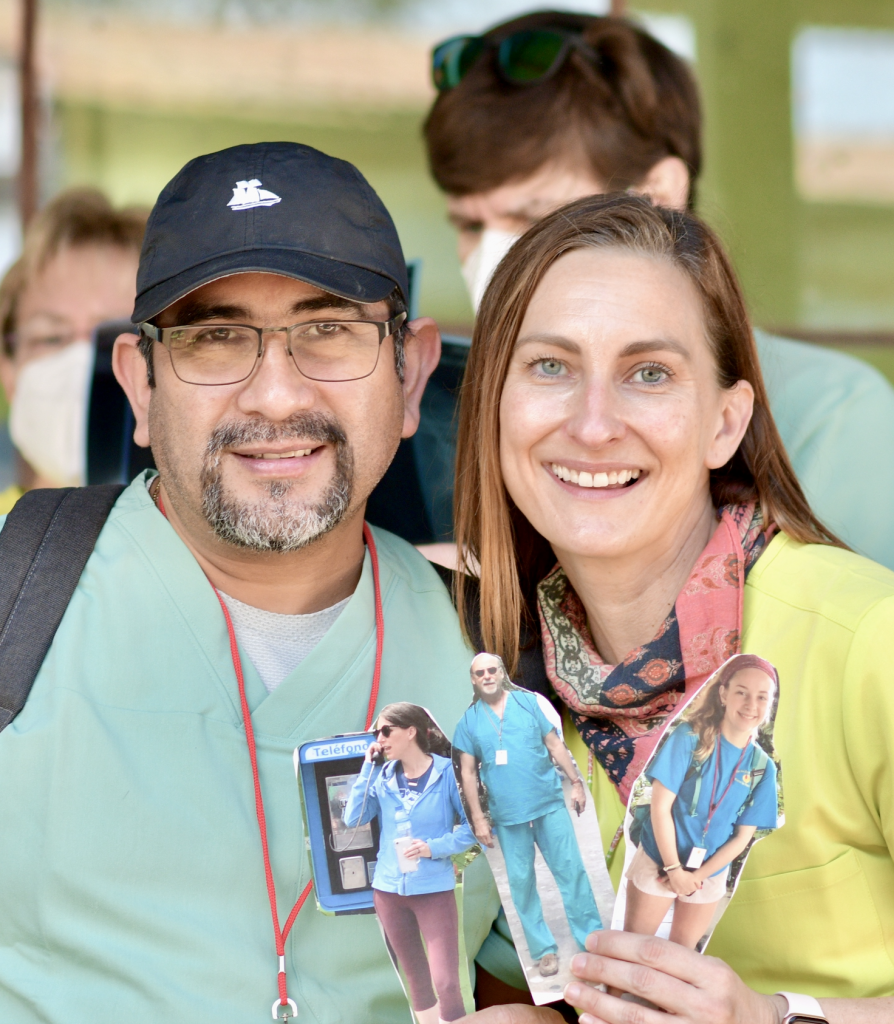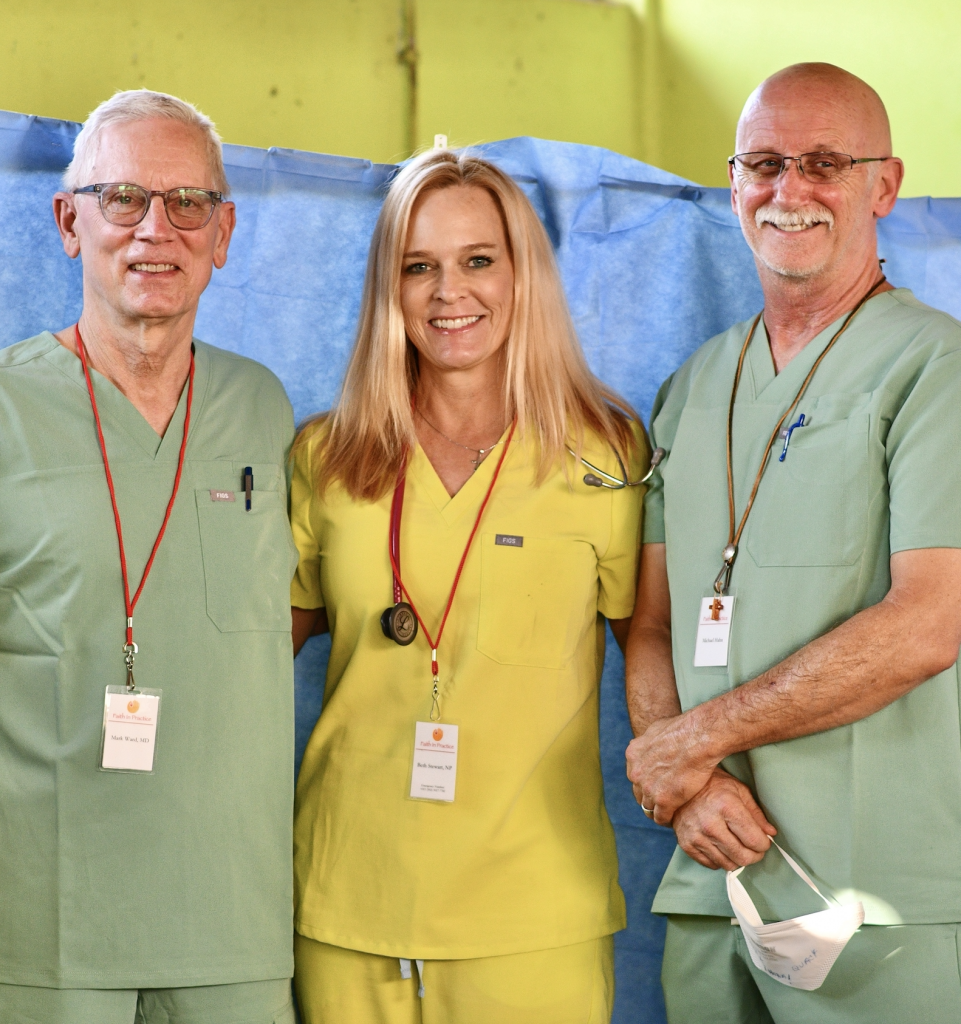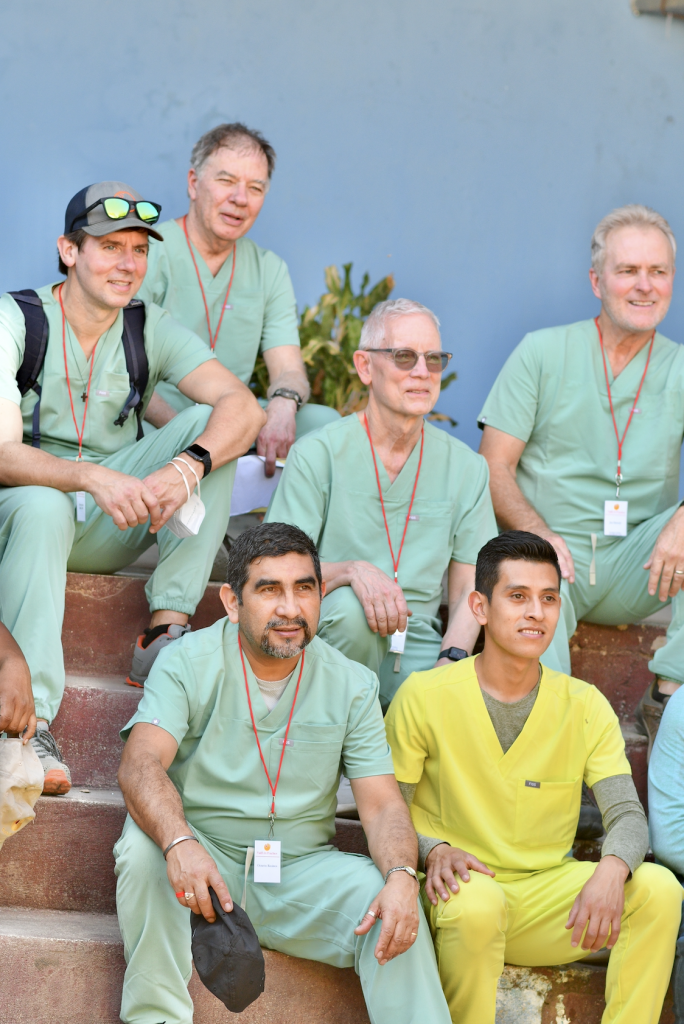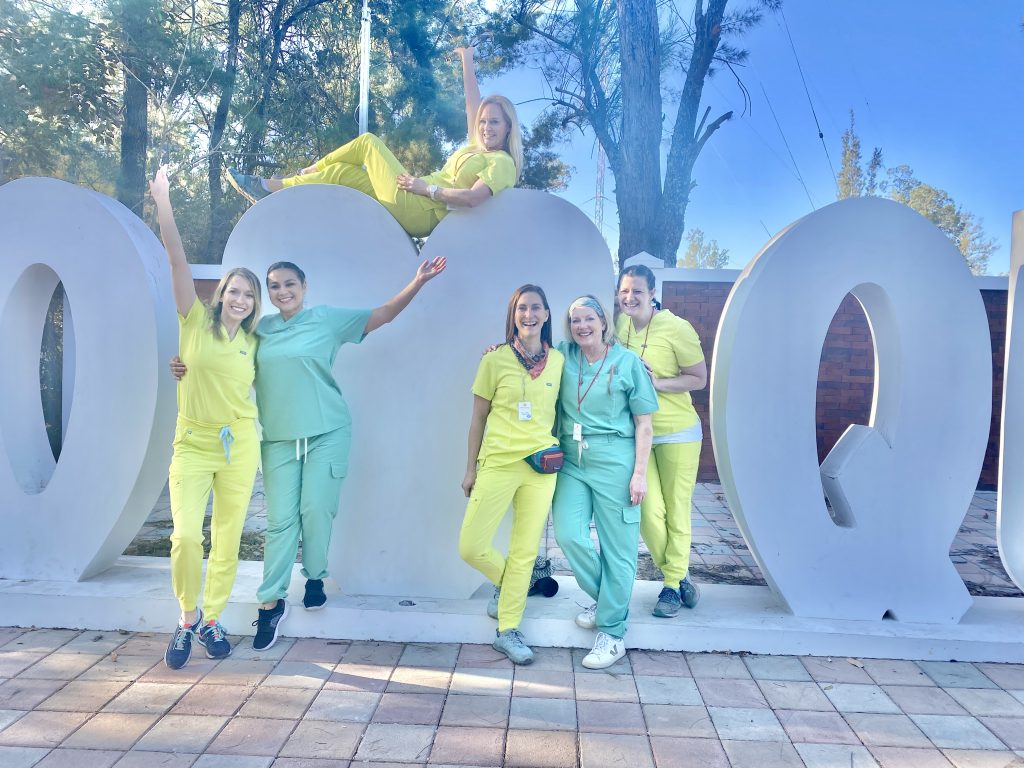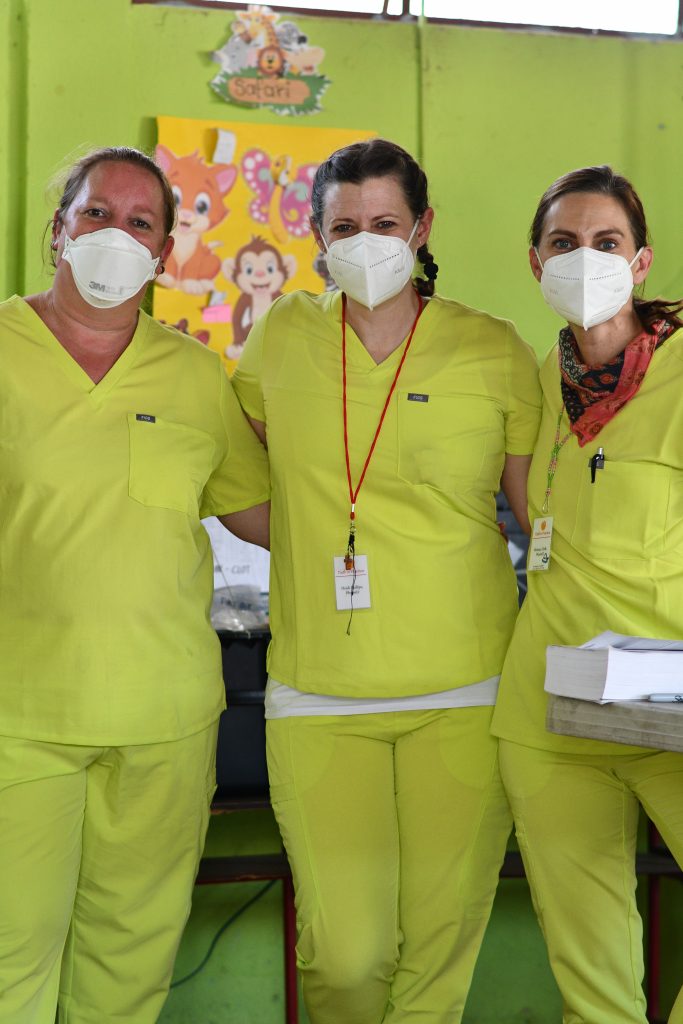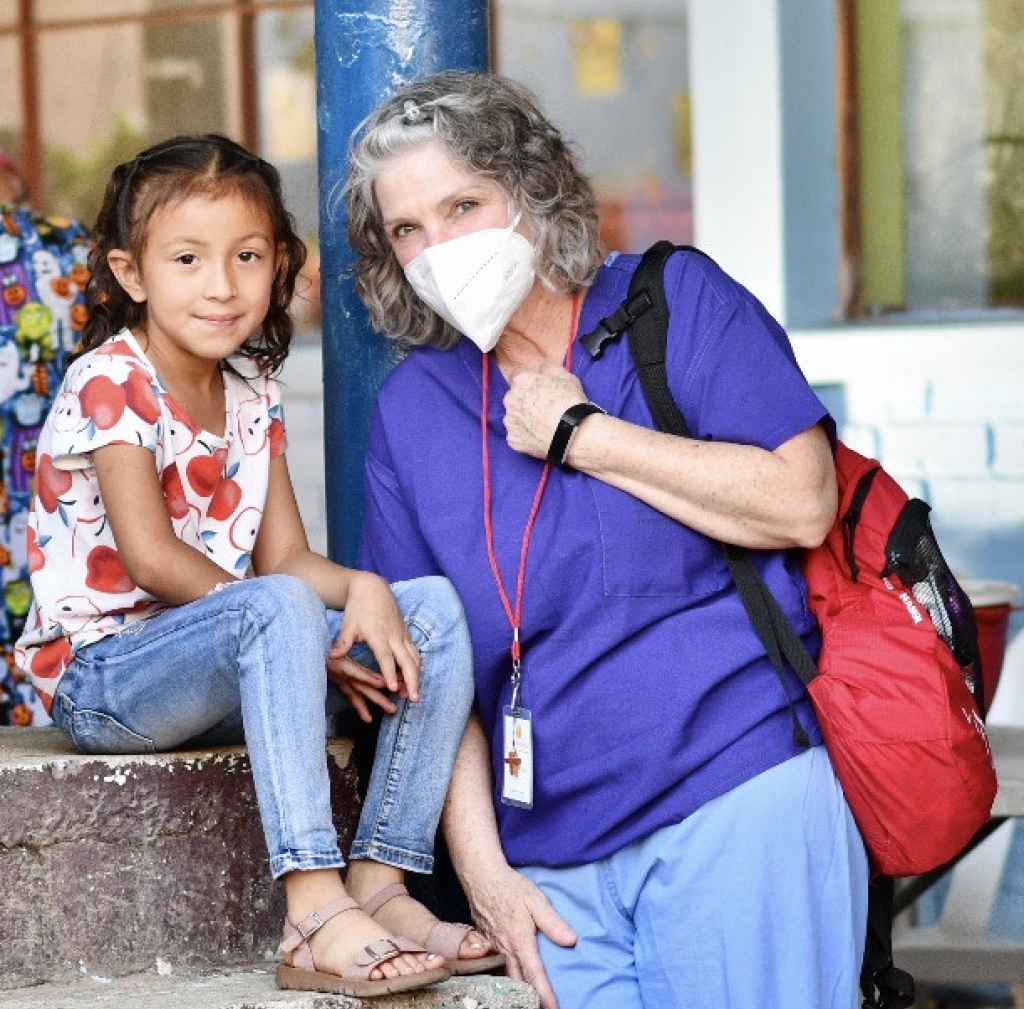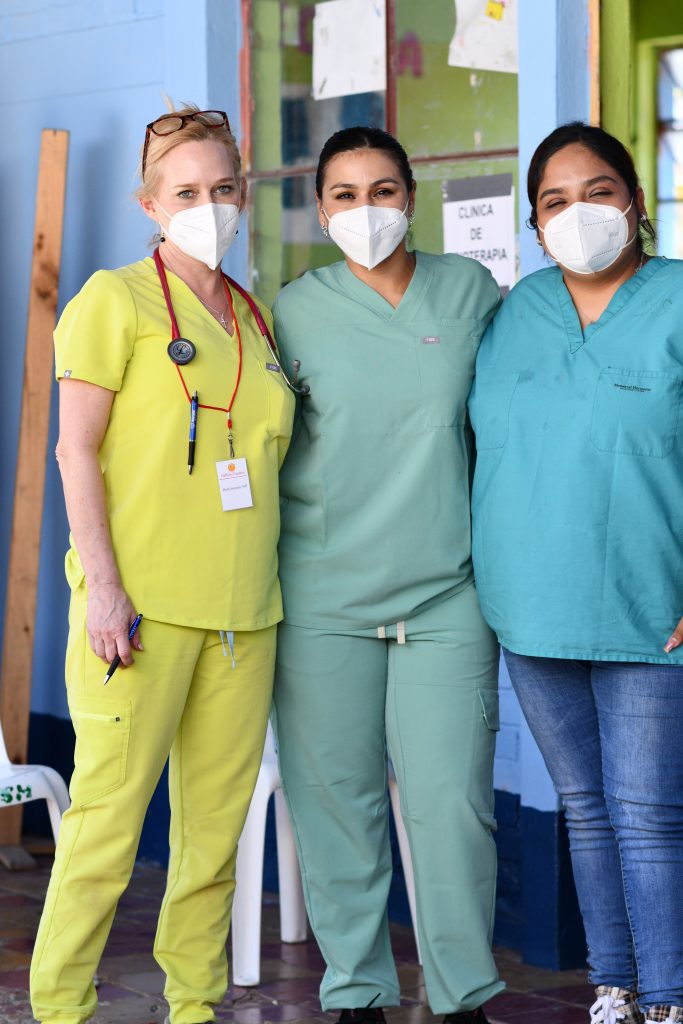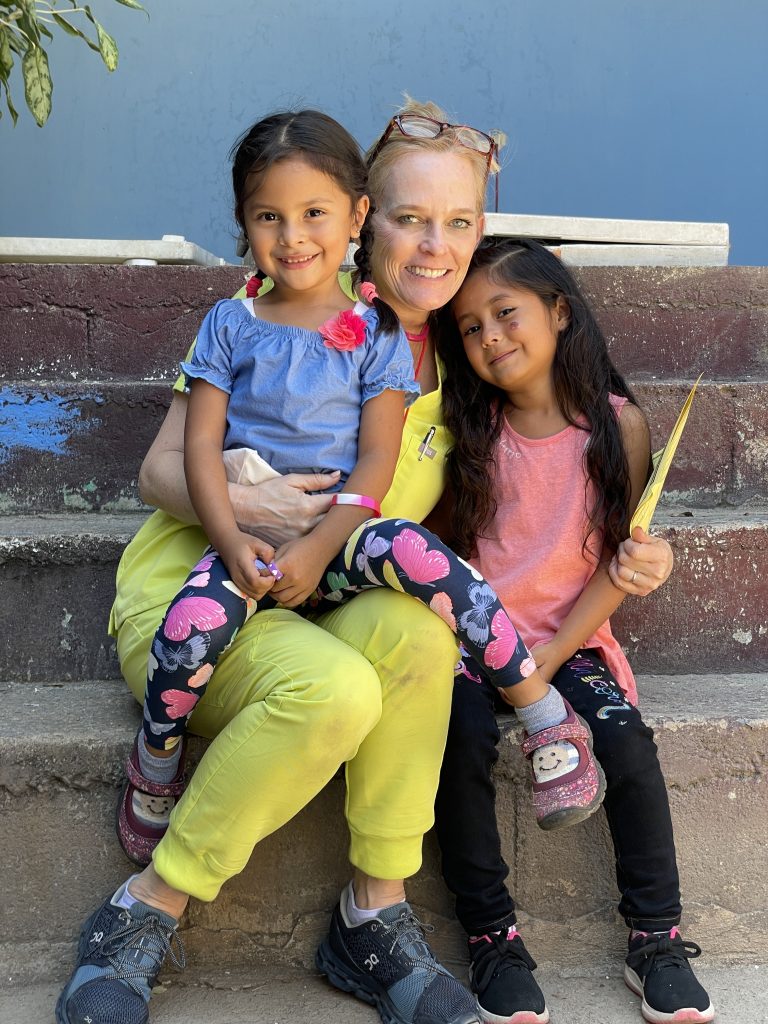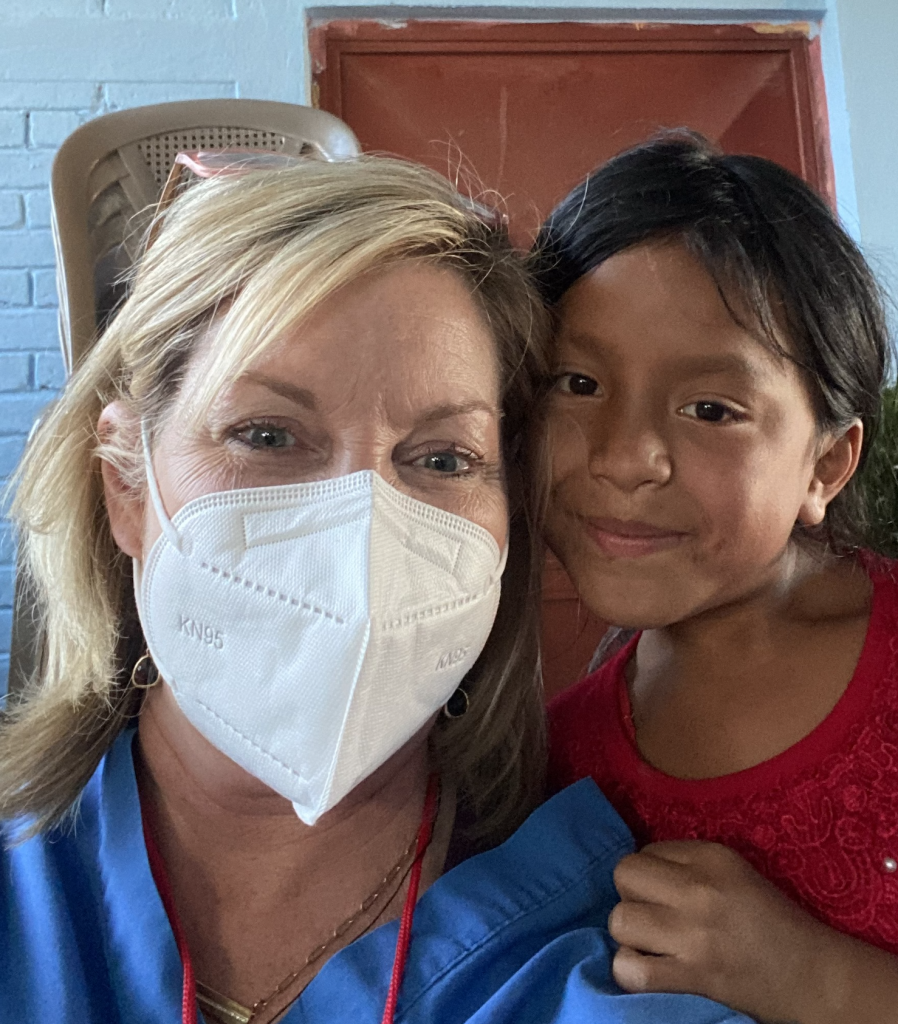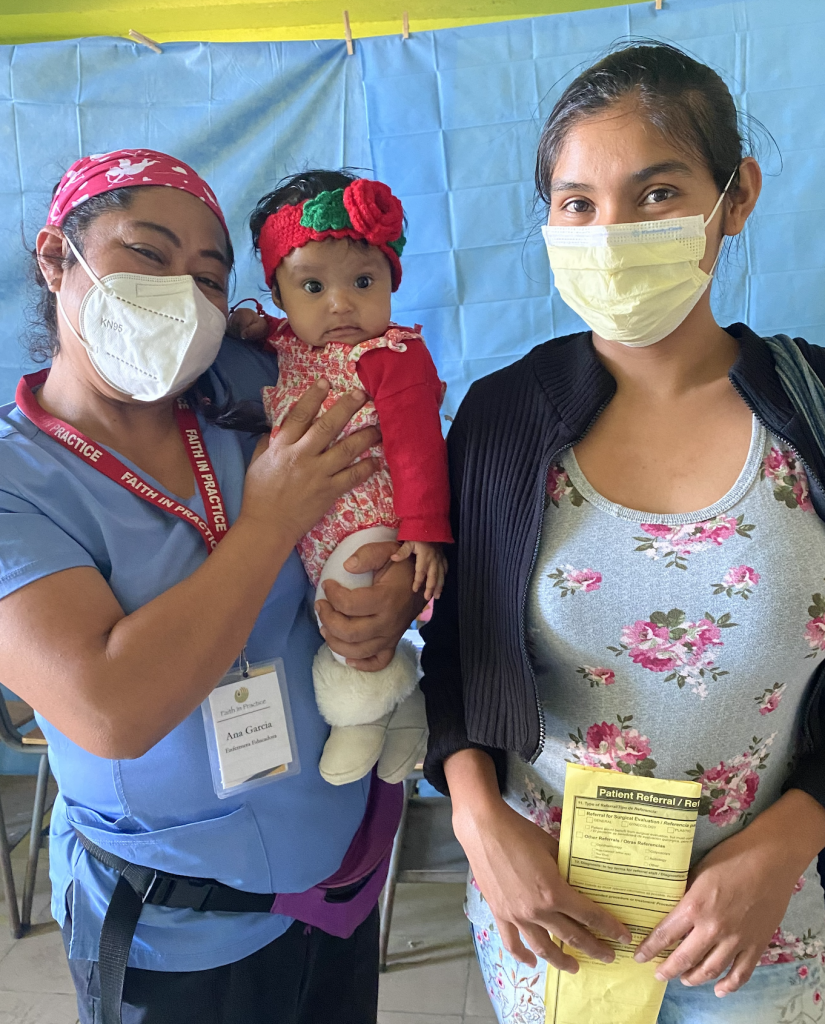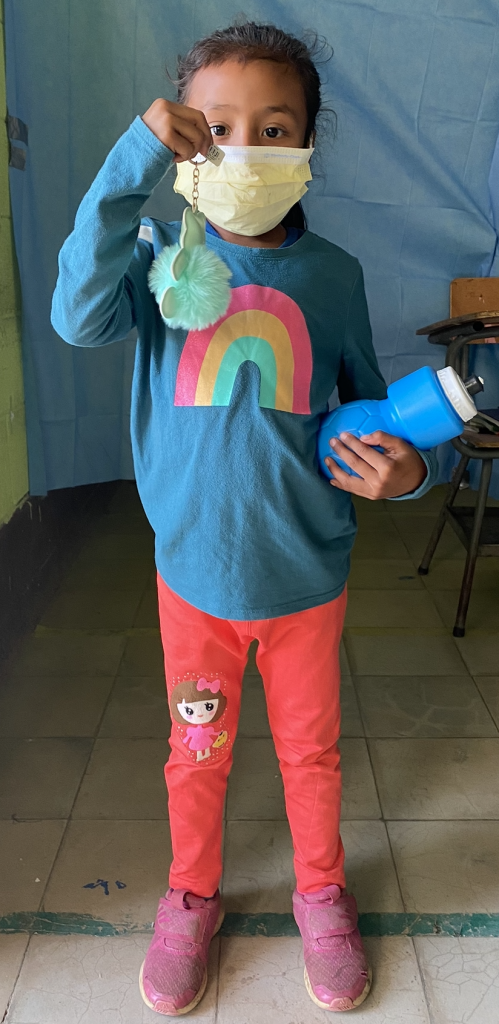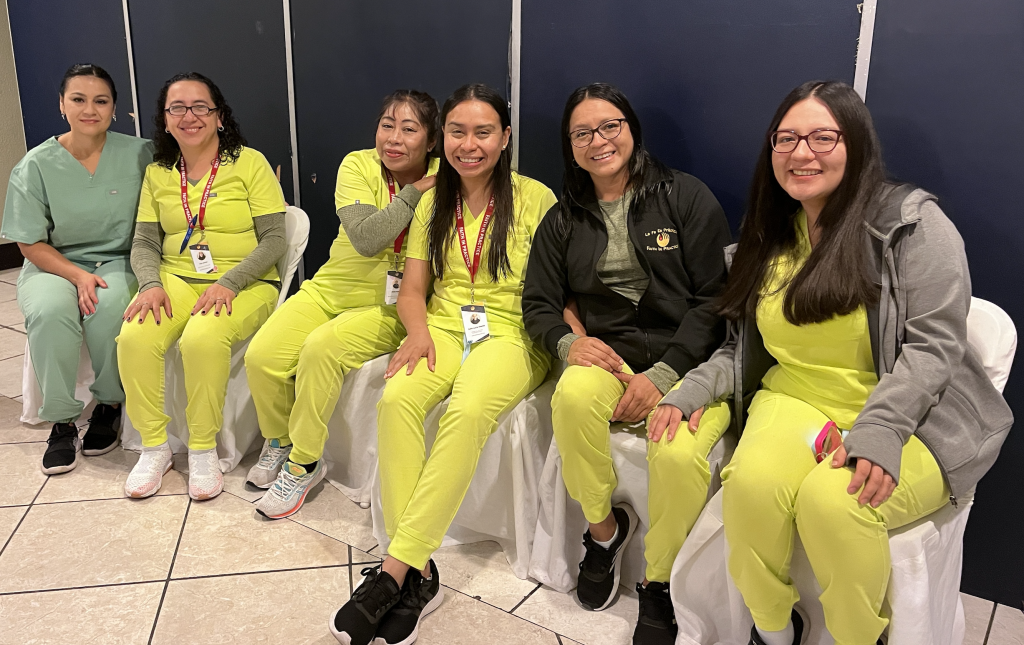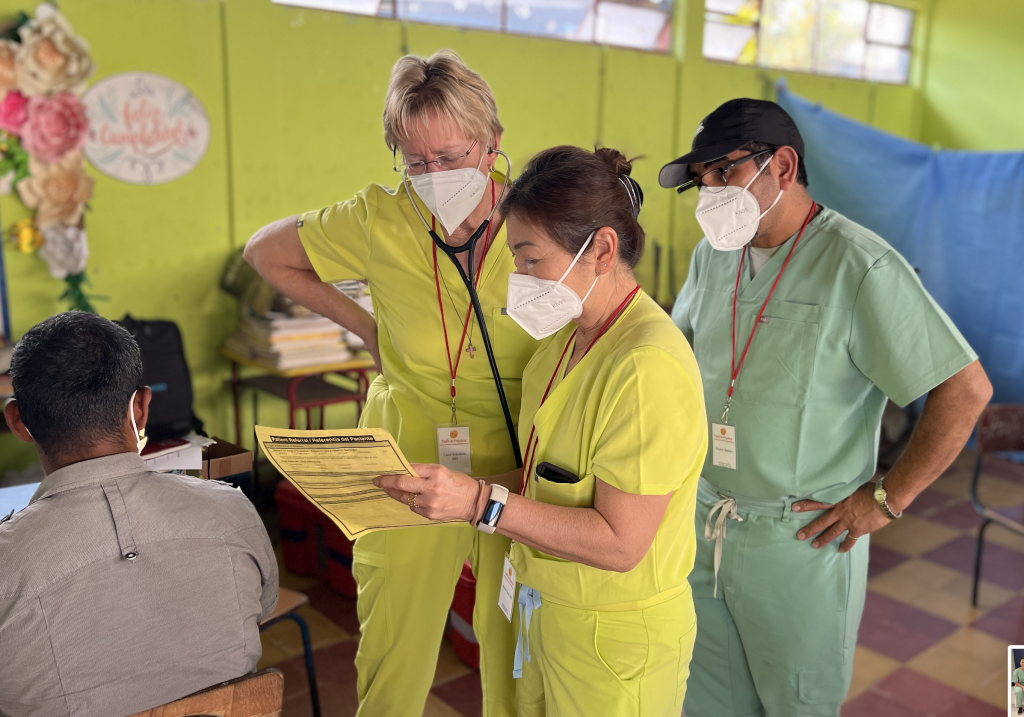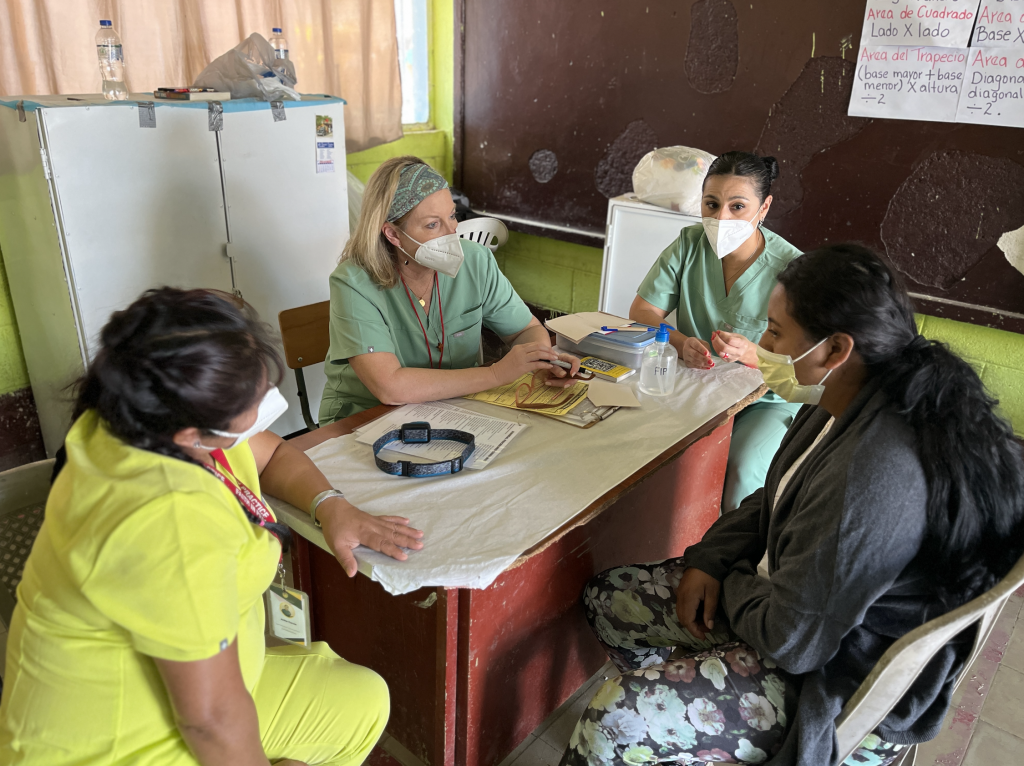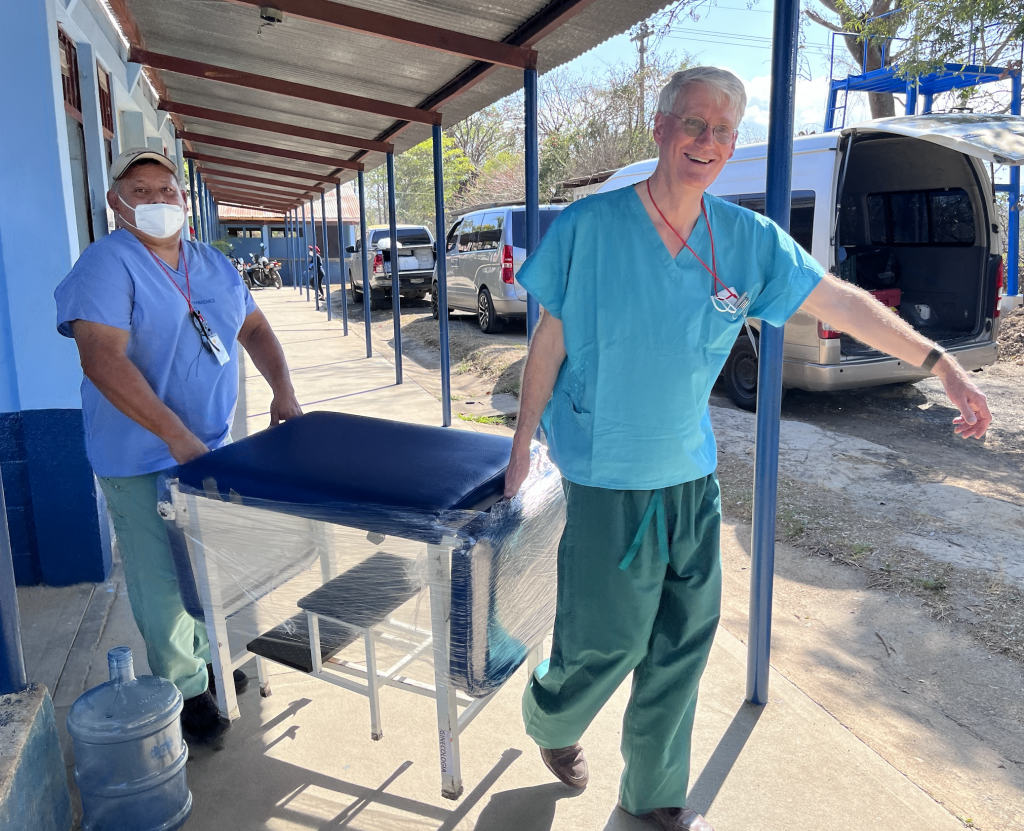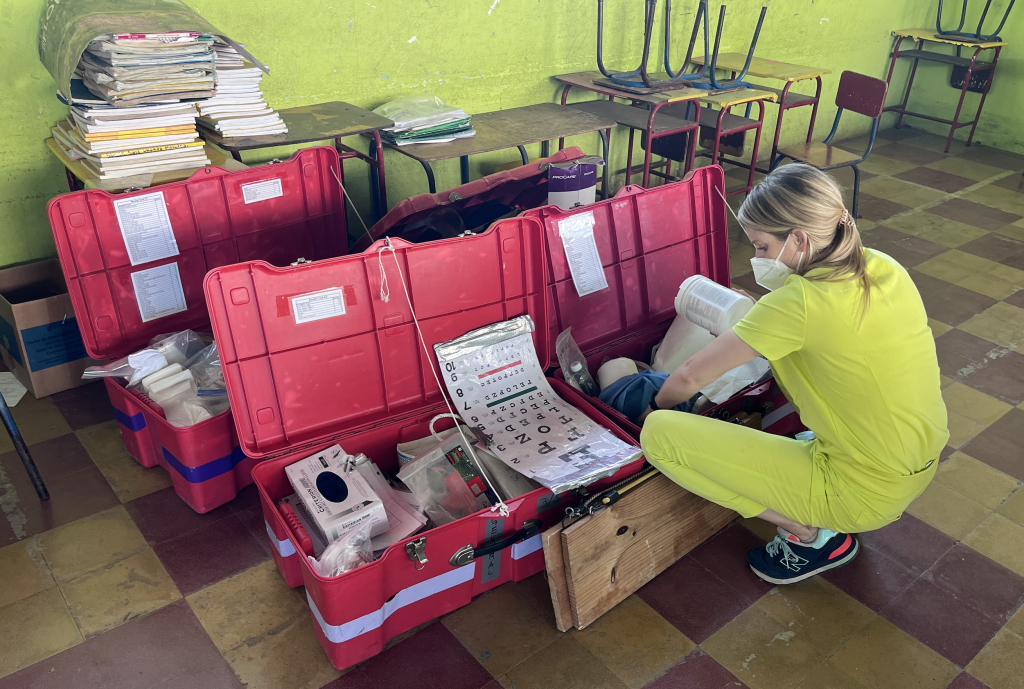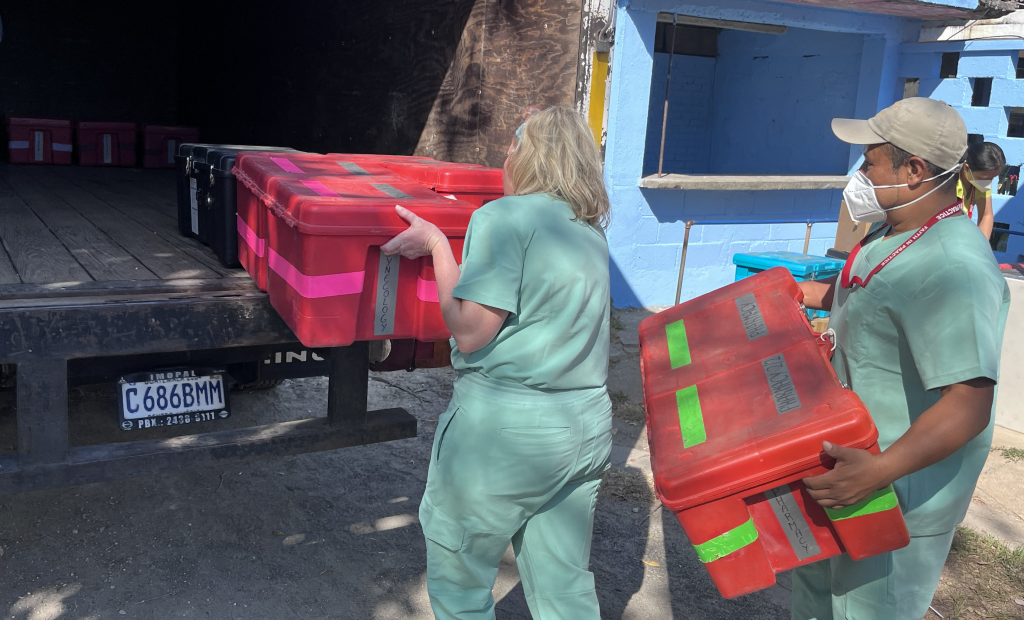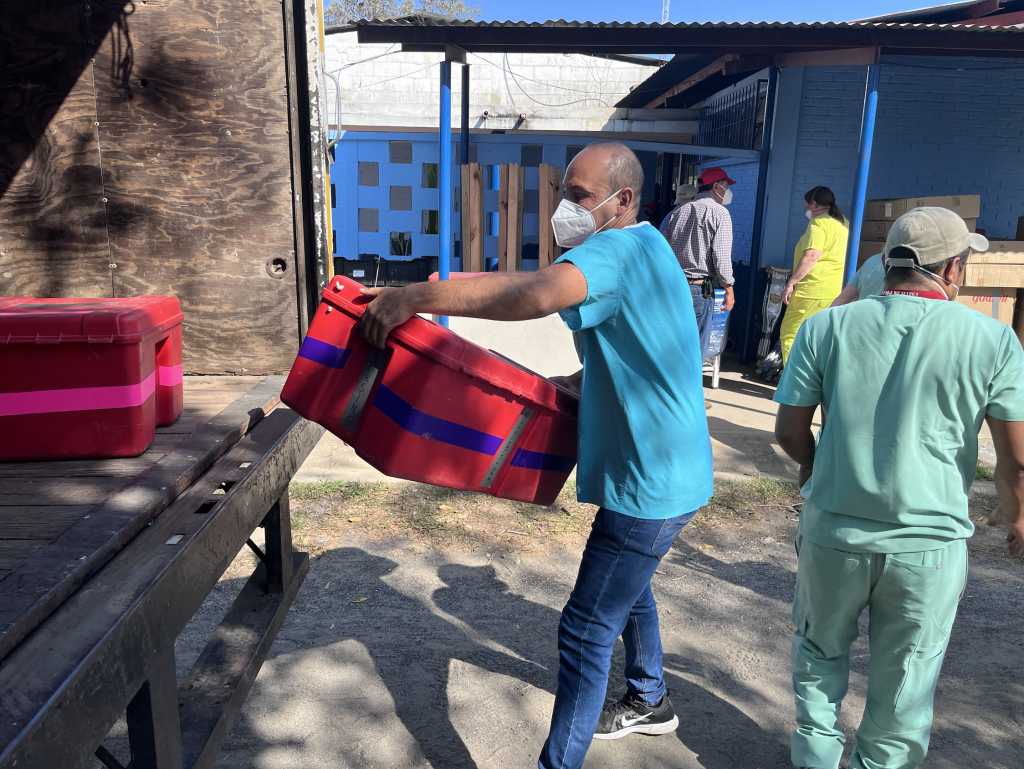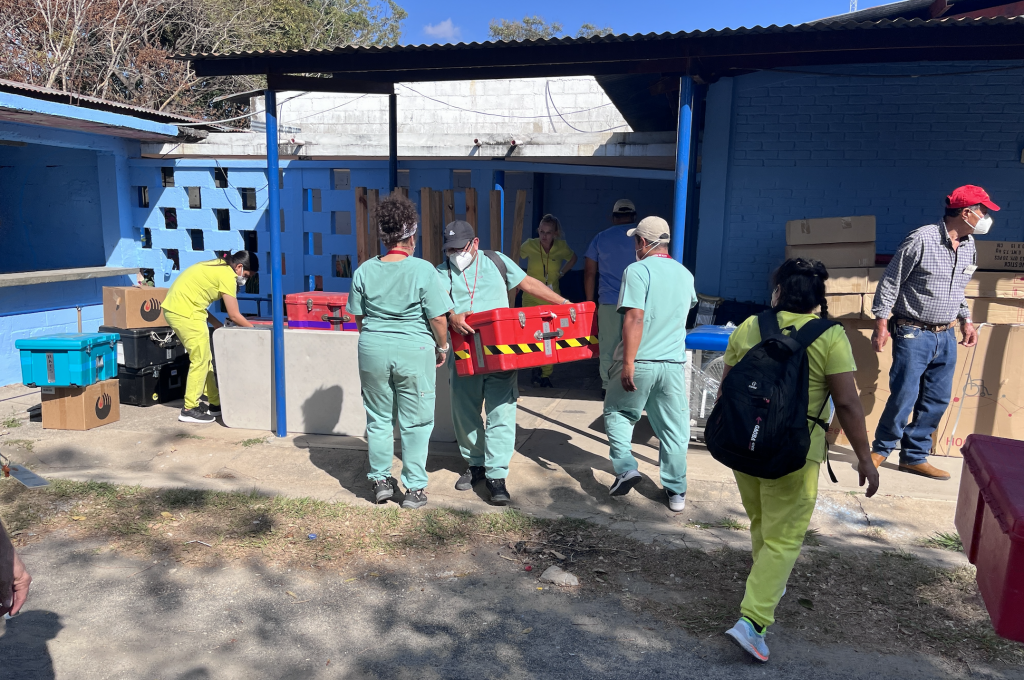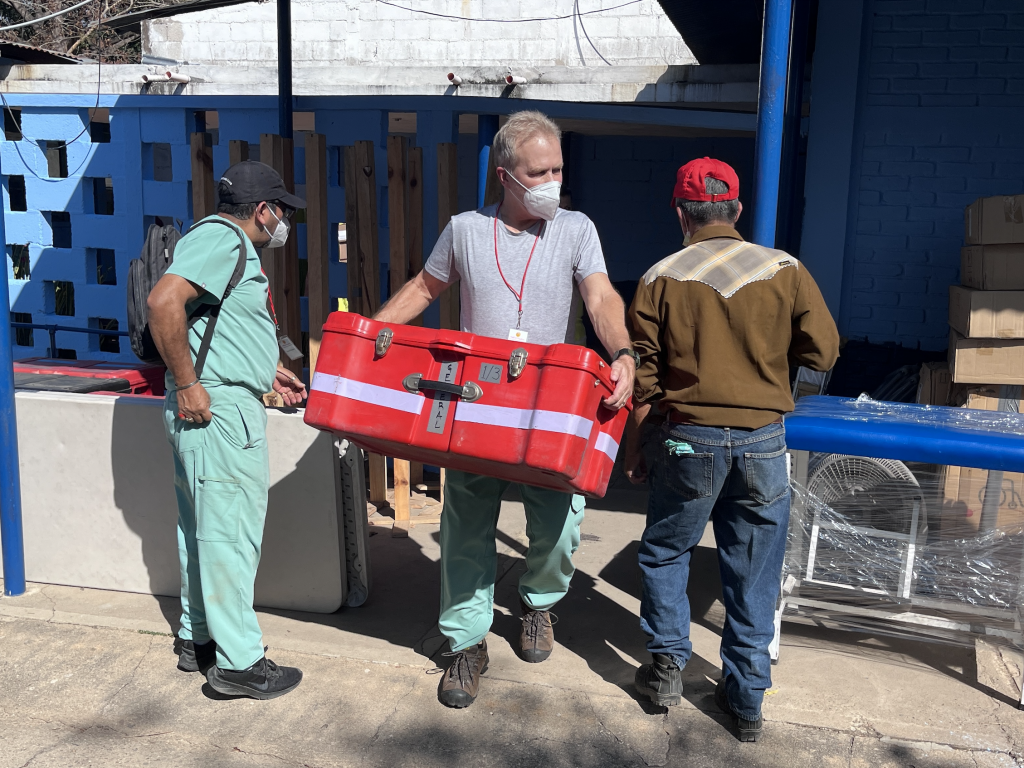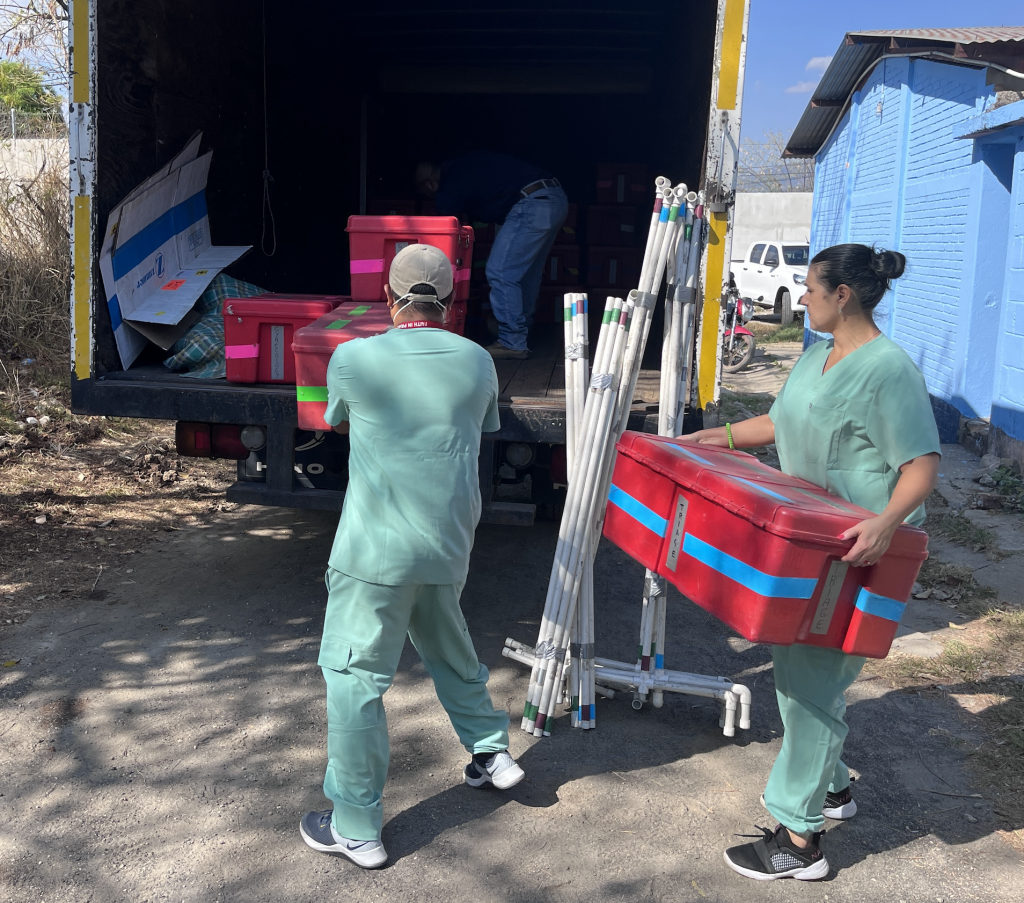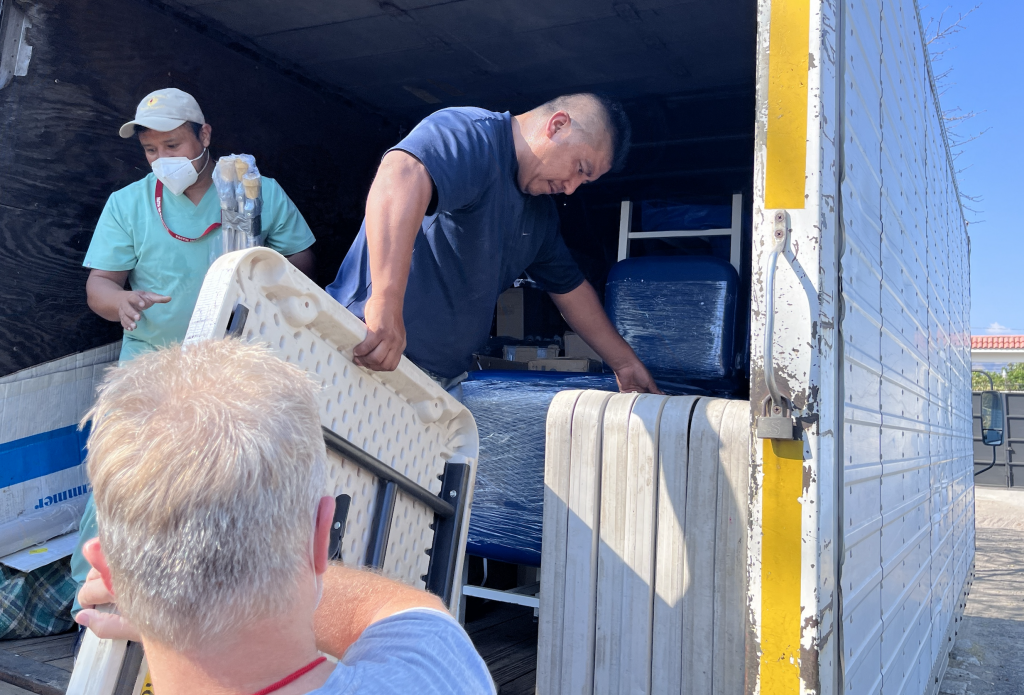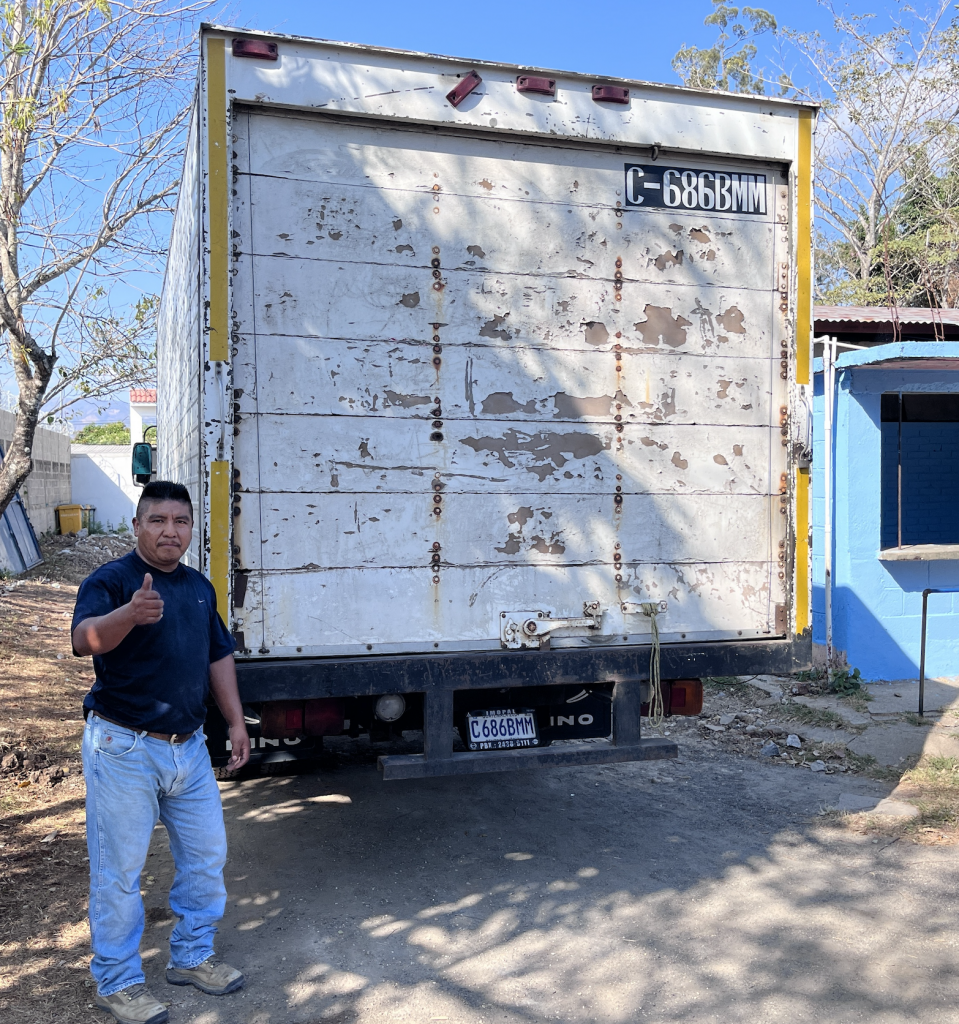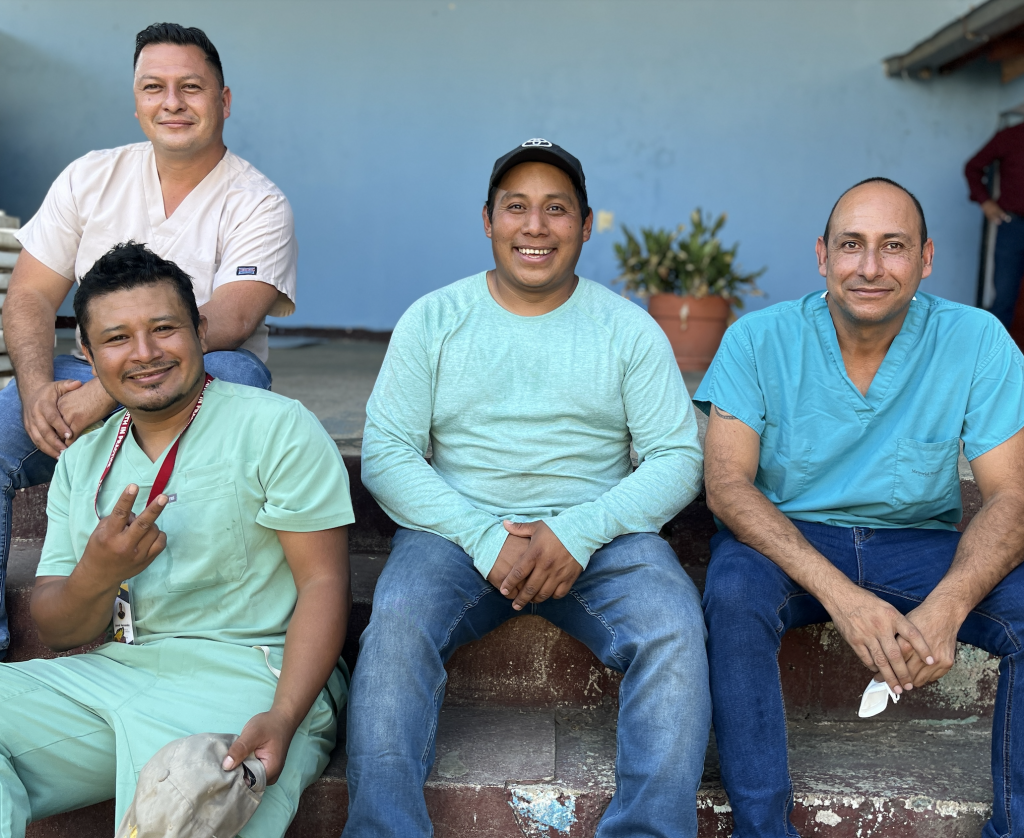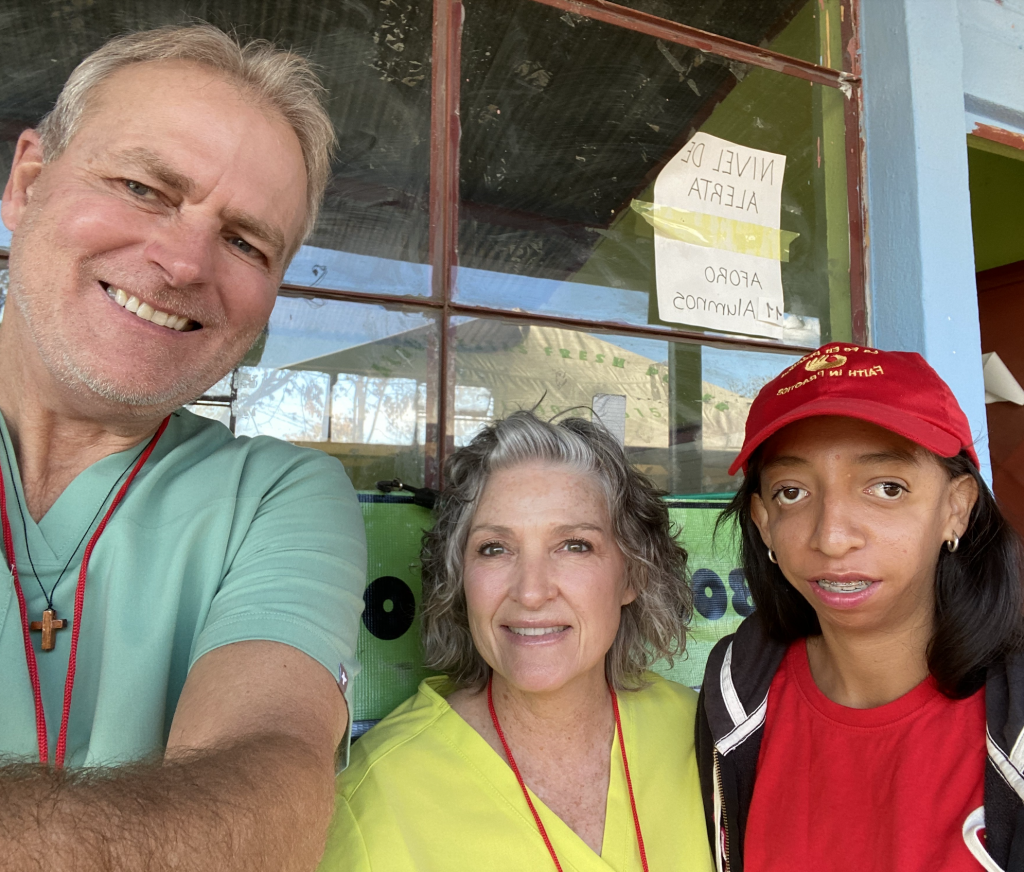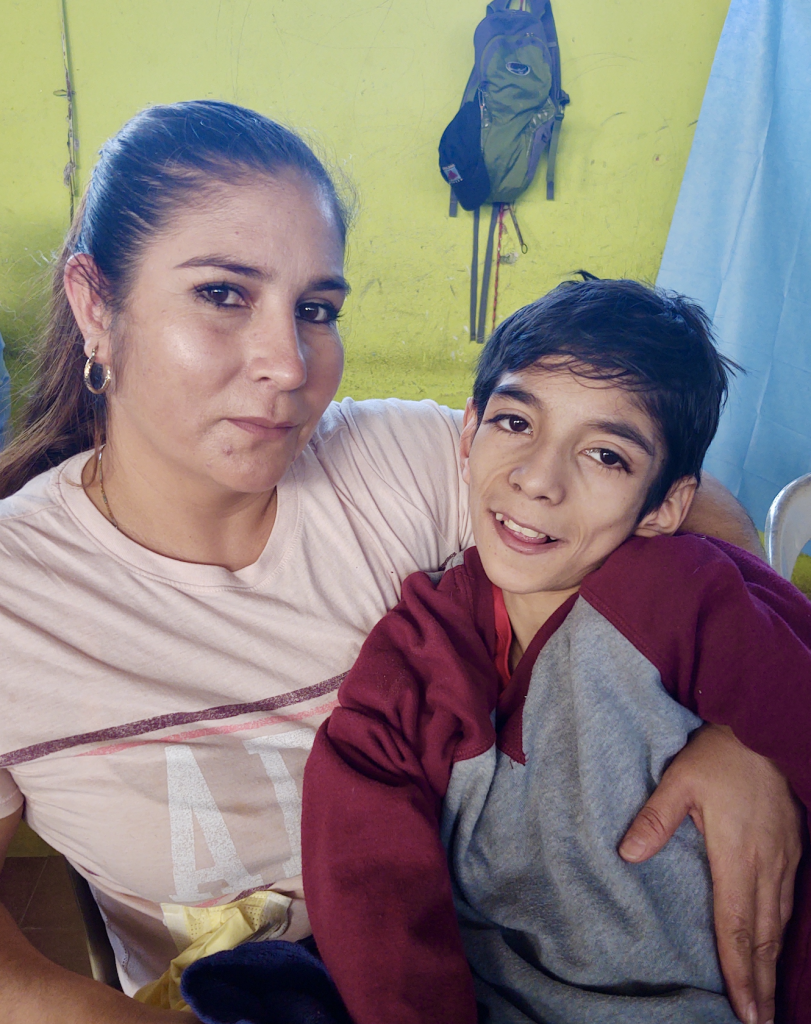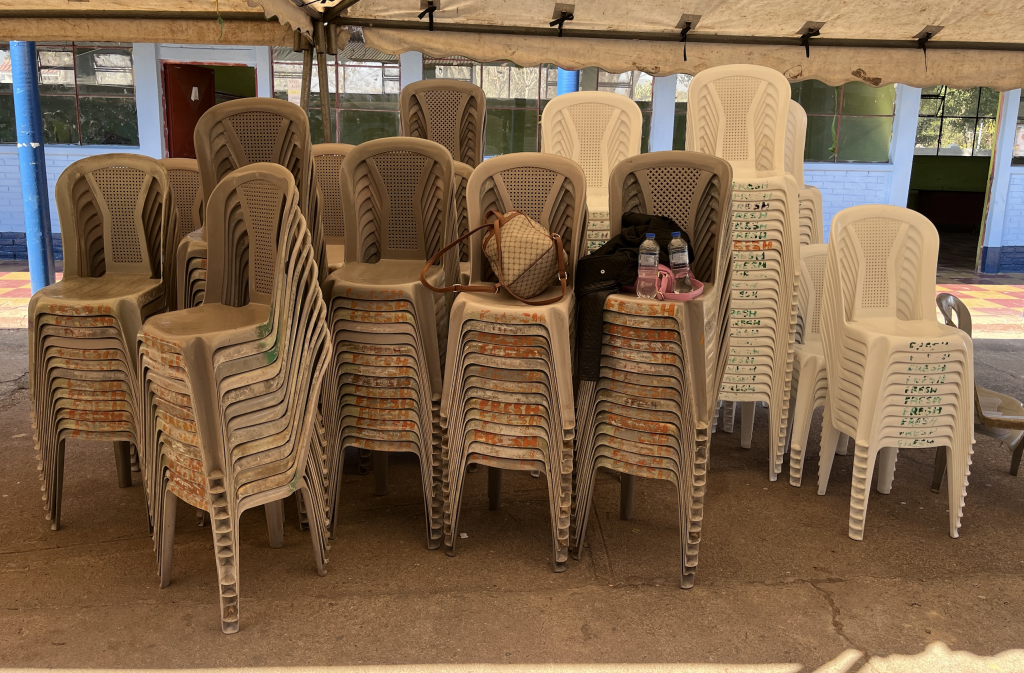 Hello! We greet you today with a with a portrait of Transita. At 101, she is the oldest patient that we saw this week. She is in our photo roll with her daughter and great-granddaughter. She just had some lower leg pains and needed a little Tylenol and a walking stick.
Morning devotionals are supposed to center, focus, and set a direction and tone for the day's labor. Lauren's discussion on the Scripture's imperative to "be the Light of the world" and be content and thankful for what we are able to accomplish on a trip like this hit home. At the end of it all, the demand placed on us is to just be thankful for the simple blessing of our encounters with the people who come to our clinic. A great start to the day.
The last morning of a clinic week is a study in conflicting emotions—a tragedy of sorts: On the one hand there's satisfaction in a job that feels like it was done well; and an exuberant celebration of the new friendships that we have made and meals shared with others. Reasonable people should not expect more than that from a week of hard work. At the same time, our encounter with our first patient today marked the start of the last few hours of our work here—and the knowledge that the end of the Delk Medical Clinic 753 means taking leave of a durable calling but very fleeting encounter with wonderful patients and a special country. As early as Sunday morning, when we will wake up in our scattered homes, the whole affair will for many suddenly feel like a dream, something that is hard to hold on to and an experience that will be deeply missed by everyone in the coming months.
I asked Brendan, a team newbie, to reflect on her experience this week. She was moved over and over by the empathy of the families that she saw in the lab each day: A young daughter holding the hand of her mom who was in for an exam; whole families bundled together and supporting each other as they left the clinic and started the tiring trip home. Few patients ever arrived to meet with us alone. Everywhere—across hundreds of souls–one could see a level of care and mutual support that spoke to a different way of being a family when contrasted with some of Brendan's experiences back home. It was a vision perhaps of how things could be in our home country where so many people–who are certainly materially better off than our patients here– experience more than their fair share of isolation and loneliness.
The pictures posted today may seem a bit more colorful, the female staff more lustrous, the male volunteers more chiseled. For our last day we're dressed in brand new designer scrubs that were donated to us by Figs, a company that wants to eliminate the frumpy and pedestrian old school uniform from every health care setting on the planet! Organizations like Faith in Practice depend for support from all sorts of donors, and money is the most versatile and fungible way to advance the mission (and thanks again for all your donations!). But when specific and acute niche needs arise (like for a hundred pair of scrubs in six sizes each week for 50+ teams a year)—and are vocalized (like Beth cold-calling their HQ and convincing Figs that everyone can benefit if they make a donation of their product to Faith in Practice; and getting a buy-in from their marketing guru in 90 minutes), contributions like this dovetail and support our overall mission and day-to-day work. They look and feel great—I personally noticed increased respect and significant deference building all day from my fellow volunteers just wearing these things. They were handed off to local Faith in Practice staff later in the afternoon and will remain in Guatemala for months of continued hard use in the field.
Bringing in, setting up, and breaking down the truckloads of materials needed to mount this clinic (and getting it back to Antigua for restocking and on to the next village team in eight days) falls on the shoulders of Oliver, Leo, Estuardo and Willie—photographed sitting on the school steps. These guys spend a good part of the year away from their families accompanying teams in their village work, running errands to pharmacies and hardware stores, fixing broken equipment, and pinch-hitting on any task that needs a helping hand. We've enjoyed lunch and dinner with them over the days, and last evening we celebrated Willie's birthday with that great strawberry chocolate cake you saw. Every village team every day depends on these guys to come through for them. They are the true unsung heroes of the Faith in Practice mission!
The kitchen closed early today so Miguel could get the heating plates, serving equipment, and remaining food on the early trucks. By 3:00 p.m. clinic volume was tapering off. Road blockages and some political unrest in outlying areas meant that a few dozen of our prospective patients failed to get here today for clinic (but they are being rescheduled today for the next village trip to this region). Everyone began to pack up trunks, take down curtains, and generally return the classrooms to their regular purpose for Monday students. The sixty staff and volunteers made quick work of loading the tons of equipment, and we whisked out of Quezada for our last night in Jutiapa and a celebration farewell dinner (pictures from this event to you tomorrow).
It's been an honor and blessing to serve the local people this week. But the health care support system here is pretty impoverished, and though Faith in Practice was here just last November for Quezada's first clinic, there are no plans to return here in 2023. Truth be told, two visits has made a significant dent in the needs that we can address in this community. And there are hundreds of other hamlets and small towns just like Quezada that also lack health care resources and that would welcome a clinic or two in the future. Spreading the scarce resources and the gift: That's probably the game that will play out in the foreseeable future. With any luck and good strategic public health planning, government support will continue to inch forward for these towns and referral and tertiary care options will expand.
I'll leave you with a decidedly inanimate picture this evening: 250 cheap plastic chairs, the sort you can get at the local Home Depot in Guatemala City for a few Quetzales. They are put out every morning on a village trip; moved into clinic rooms; given to those waiting in line when they can't stand anymore; used by the staff and volunteers and the family members that inevitably accompany each patient. This week each of those old chairs each saw about ten different people sit in them—the same people that you've seen working and getting care in this week's photo feeds. Think: 250 cheap PVC chairs times 11 village teams; and dozens of chairs in FIP surgical waiting rooms for another 50 clinics of a week each over a year; multiplied by years and years ahead of us before they finally collapse. Each chair tells a story better than any we can spin for you on a blog. And there will be tons more stories for those chairs to tell every day into the coming years after we exit Guatemala on Saturday.
Don't miss our last in-country blog tomorrow. Thank you for sticking with us this long.
-Joel Zimbelman
To support this team and their commitment to our patient's visit: